Tuesday, March 31st, 2009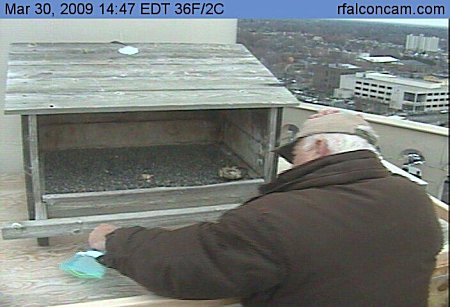 As we reported on the 19th, the New York State Dept. of Environmental Conservation (DEC) was considering "seeding" the nest boxes with food in order to entice Mariah to use one of them. Yesterday, Wildlife Technician Mike Allen supplied both of the Rochester boxes with dead quail, a standard food used for feeding raptors. Why quail? It's readily available both frozen and fresh, and quail meat has a lot of nutritional value for raptors.
Only time will tell if Mariah "takes the bait" at one of the nest boxes, but we're hopeful that the newly delivered morsels will entice her or the new male to visit the nest boxes.