Tuesday, January 31st, 2012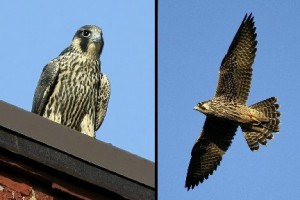 Sadly, we have to report the loss of another Rochester Falcon. On Monday, January 23, 2012, a falcon was found dead on top of a school in East Aurora, close to Buffalo, NY. The DEC was notified and they confirmed that it was Valiant, a Rochester Falcon hatched on top of the Kodak Tower in 2006. It is assumed that he hit the building.
Valiant aka Sabrina was one of three falcons that hatched in 2006. As many of you know, that was the year that Mariah badly injured her leg and Kaver became a super dad. Rochester Falconcam Watchers, anxiously watched Mariah's struggle to brood, feed and raise three young eyases. We were in awe when we saw Kaver bring food to Mariah at the nestbox to feed her and the eyases. Out of what could have been a tragic year for the Rochester Falcons, three young falcons grew and flourished on top of the Kodak Tower in Rochester, NY. Rhea Mae, Aura and a tiercel named Sabrina.
On banding day, the DEC collected the three eyases. Second to be banded was the smallest eyas. After careful measuring of the leg and further examination, it was determined that this was a small female. Long time Rochester Falcon Watcher Dan Stiehler had been given the honor of naming this eyas. He had submitted two names, Sabrina for a female and Valiant for a male. That day the name Sabrina was given to this small eyas. This was the name submission from Dan. Sabrina – Latin: Vibrant, Full of Life. These are just two characteristics so highly evident in matriarch Mariah.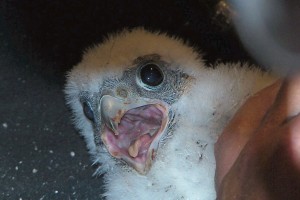 As time went on, it was more and more obvious that our Sabrina was actually a male. He was much smaller than his two sisters. But, until it could be proven that she was a he, the name Sabrina would remain for this handsome tiercel.
Sabrina, Rhea Mae and Aura thrived under the care of their doting parents and fledging was near. Mariah healed and Kaver continued to hunt and care for his family. Falcon fans around the world nervously watched the camera at the nest box on top of the Kodak Tower. Three young eyases flapped their wings furiously, strengthening them for that first flight. Sabrina was more advanced than his bigger sisters. Smaller, he was after all a tiercel and would take flight first. He did!
The Rochester Falcon Fledge Watchers were down below, waiting. Flap, flap, flap, flap! Flap, flap, flap, flap! He's off!!!!! Sabrina was first to fledge that year and he flew strong and sure.
That Spring/Summer of 2006 was a very special year for all of us. Six eggs were laid, three survived to fledge. Two of these three went on to nest in areas where they were seen and reported. We have had no word of Aura, but Rhea Mae is currently nesting on the 43rd floor of the Sheraton in downtown Toronto with her mate Tiago and Sabrina was nesting at the Ogdensburg-Prescott International Bridge over the St. Lawrence River.
But wait! Sabrina was observed that first year and guess what? We had our first "official" proof that Sabrina was in fact Valiant!!! Yes, Valiant was definitely a tiercel. During the years that he and his mate Zanar from Ottawa, Ontario, Canada nested there, it has been reported that they laid 7 eggs and 2 young falcons fledged. This is not a very safe nesting area since it is under a bridge over water. Rochester Falcon Watchers Dan Stiehler and Lisa McKeown had actually visited this nest site but were unable to see Valiant or Zanar.
RFalconcam Forum member Janet, a first time Rochester Falconcam watcher in 2006, told me that had been the first time she watched. She only viewed the cameras, never visited the discussion board, so she had no idea what this small falcon's name was. She called him "Red", because the DEC had wrapped Sabrina's USFW silver band in red tape, to make it easier for the watchers to ID them.
2012 has started with the loss of two of our Rochester Falcons, Callidora and Valiant. With the celebration of sending new Peregrine Falcons out into the world, we must also deal with their loss. Fly Free Valiant and Callidora. It is with sadness and fond memories that we say goodbye.
We here at the Rochester Falconcam, hope that 2012 will be successful and that Beauty, Archer and Unity will raise young that will continue the legacy of the Rochester Falcons and help to raise awareness of an endangered species. We learn something new every day about these beautiful birds. Thanks everyone for continuing to watch and support the Rochester Falcons.