Monday, May 22nd, 2017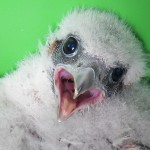 It was Banding Day for our Rochester Falcons today. Our friends from the DEC (Department of Environmental Conservation) arrived this morning around 10:00 am. On hand, to help out, were RFalconcam members June, Shaky and Carol P. Also helping out to moderate the forum and live streaming video feed were Donna and Eileen. The Rochester Falcon Watchers arrived to watch from the front of the Times Square Bldg.
Let's meet our four eyases. (Pictures by Carol Phillips)
Seabreeze (Male)
25 Black Over BA Green
No Tape over USFW Silver Band
Named by Judi Miller's 6th Grade Class, Enrico Fermi School #17, Rochester, NY
"Named for the our local area (and park) near the lake where some of the falcons have been drawn."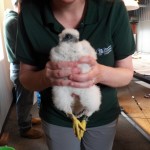 Ontario (Male)
26 Black Over BA Green
Blue Tape Over USFW Silver Band
Name submitted by Susan Meyer of Rochester, NY and George Niessing also of Rochester and selected by RFalconcam forum members.
"Ontario is for the lake falcons fly over and to remember the year Lake Ontario rose to some of its highest levels in recorded history!"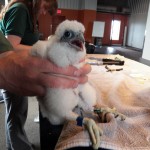 Charlotte (Female)
87 Black Over BA Green
Red Tape Over USFW Silver Band
Named by Donna Cook
"A neighborhood in Rochester in the U.S. state of New York, located along the western bank of the mouth of the Genesee River along Lake Ontario. It is the home of the Port of Rochester and a great place for past Falcons to rest before migration or to just hang out for the watchers to enjoy!"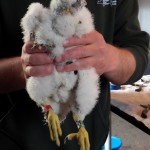 Rachel (Female)
88 Black Over BA Green
Yellow Tape over USFW Silver Band
Named by Mark Bezinque
"Rachel Carson, the author of Silent Spring, was important to the public's early understanding of the dangers of pesticides. As a boy, I learned about the accumulation of pesticides in peregrine falcons and how it threatened their very existence. Her work helped save our favorite raptors."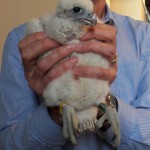 It took about an hour to retrieve the four eyases, band them and return them to the nest box. All under the watchful eye and swooping by both parents, Beauty and Dot.ca. The DEC Technicians checked the eyases to make sure they were all healthy. All of them had full crops.
Here are some Banding Day pictures.
Welcome to the Rochester Falcon Family, Seabreeze, Ontario, Charlotte and Rachel! Many thanks to those that chose these wonderful names!