Tuesday, January 14th, 2014
By Rochester Falcon Watcher Carol P.
Sunrise at 7:39 am.  Sunset at 4:58 pm.  Oh, so close to 5:00 pm!  Full Moon too!
Temps were in the upper-30's (F) and it was cloudy.
I didn't have much time for my afternoon watch today, so I was happy to find both Beauty and Pigott.  I did look for Dot.ca, but could not find him.
No Falcons at Kodak Park.  There were two Red-tailed Hawks, one on the tallest still and one in the trees.  Probably a good indication that the adult Peregrine that we've been seeing there was not home at the time.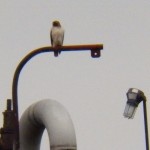 *
*
*
*
*
My next stop was the BS location where I found Pigott on the east end of the building on a lower roof with a very full crop.
*
*
*
*
*
*
*
*
Downtown I was unable to find Dot.ca after a quick search, but I did find Beauty up on top of the Mercury statue.
*
*
*
*
I had to end my watch earlier that I would have liked.  But I was happy to have found Beauty and Pigott doing well.  Goodnight everyone!