Monday, January 30th, 2017
By Rochester Falcon Watcher MAK
It was partly sunny with lake effect snow squalls and a temperature of 20 (F) -7 (C)
My watch officially started around noon when I spotted Seth out over the river sky dancing while I was eating my lunch. Ah, my favorite thing about living at Seneca Towers (ST)! So after lunch I left and found both Billie and Seth on the south side top window ledge. They were facing each other at opposite ends.
Be sure to click on the pics to see the full version
Buffalo Billie had a very full crop which I believe is the reason she wasn't interested when Seth flew off and came back seemingly wanting to mate. When she didn't lift her tail for him he landed on the ledge a couple feet away from her.
I left them after a few more minutes and headed for downtown. I arrived in the hole just in time to see the Beautyful one fly off the 2nd I-beam southeast side of OCSR and go over to the base of Mercury where Dot.ca (DC) was eating. He grabbed his prize and flew over to OCSR as she landed on the base.
About a minute later Beauty flew over to OCSR and flew past DC a couple times to check out what he was eating before landing on the top I-beam near the south corner. Meanwhile, DC was eating near the elevator shaft on that same I-beam.
DC stashed a small piece of his meal in the corner and as he turned around Beauty flew in, ran right behind him to grab the food as he flew off to the second I-beam below her. He kept looking over his shoulder at his mate as she finished off the snack he left behind.
I had to leave them to go walk Bella (fellow watcher, Jeanne's dog) and check the Brighton Site (BS).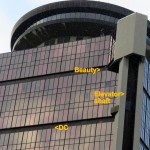 When Bella and I arrived at BS the female winter visitor was there on the south extension, 3 windows down in the corner where it meets the east extension. She stood there perched but turned sideways instead of showing me her back as she usually does.
I had to get Bella home and run a couple errands so I ended my watch there at 2:30pm. There was plenty to smile about today as the sun was out much of the time and I saw our 4 resident Rochester Peregrine Falcons plus our winter visitor! 🙂
Click on the links below to check out today's videos