Wednesday, September 26th, 2018
By Carol P.
My heart hasn't been into falcon watching for awhile and yesterday I found out a good friend had passed away.  Donna loved the falcons and every living creature.  Well, she wasn't too fond of snakes and spiders. lol  When I heard she had passed away, it broke my heart.  It just goes to show that life is too darn short.
So, that being said, this will be my last report for awhile.  Time to take a break.  Beauty and Dot.ca are continuing to guard their downtown territory.  If anything changes with our pair, it will be reported.  There are other watchers that keep an eye on things too.  So hopefully they'll report and share pictures now and then.  That would be nice.  🙂
On Monday, Kathy O and I saw both Beauty and Dot.ca together on the Frontier Communication Tower.  We even got to hear some ee-chupping.  Love that sound!
So, here are some pictures of the off-season visitors and other things.  There is a young male, hatched in 2017 hanging out at a nearby mall (Marketplace).  His name is Fission and he comes from Canada.  We also have a visitor at the BS location again this year.  By size, I'd guess a female, and she's unbanded.  I can't be sure, but it may be the same female that we've had past Winters.
Fission (at Marketplace Mall)
BS Girl
Miscellaneous Birds and Stuff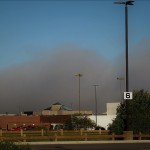 I'll end with a couple pics of Beauty and Dot.ca from Monday.
Fly Free Donna.  You will be truly missed.  🙁