Sunday, August 19th, 2018
By Rochester Falcon Watcher Carol P.
I've been out a few times over the past week, but haven't had time to post pics.  So, here we go.
The heat continues here in Rochester, NY and so do the falcon sightings.  I've seen juvies a couple of the days I was out.  I thought it was Sundara I last saw eating on OCSR, but after checking my pictures, I'm pretty sure I'm seeing a "2", not a "9" on he black/green band.  I was very surprised!
Here are some pictures I wanted to share.  Enjoy! and make sure that you click on them to see the full image.
8/11/18
Beauty & Dot.ca sharing a meal on the library.
8/12/18
Now for a surprise.  I thought I was watching Sundara, but after checking my pics, I'm almost certain I'm seeing a 2 on the band.  So, this was Mike!!!  He was on OCSR with Beauty.
8/13/18
Juvie eating on FCT.  Was not able to ID.
8/19/18
The only falcon I saw during my Sunday morning falcon watch was Beauty.  I first saw her on the Jail Comm Twr, then OCSR and finally on Mercury's foot.  She was very wet, preening after a bath.  Larry O and Zeke joined me on the Court St Bridge.
<— Beauty on Mercury's foot.
Here are pictures of a Great Blue Heron and a Kingfisher hunting on the river below.
Beauty took off, heading east.  After driving around, I found her on the Frontier Communication Tower.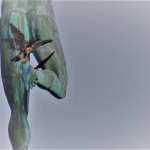 At the end of my watch, I checked out Seneca Towers, and the east and west ends of Kodak Park.  I found no falcons, but at the west end of Kodak Park, I found 100's of Gold Finches eating in the fields and drinking from puddles.  They must be migrating.  That was awesome to see!
Enjoy the day!  I'll continue to let you all know what I'm seeing on my falcon watches.  🙂