Wednesday, December 31st, 2014
By Rochester Falcon Watcher MAK
It was a cool 18 (F) -8 (C) when I started out this morning and when I ended my watch the bank clock on State St. said  16, so it went down while I was out! One nice thing tho, the sun was shining!!
Click on the pics to see the full version
I got downtown a little late this morning but I found Beauty and Dot.ca (DC) right away from the Broad St. bridge. They were on the southeast side top ibeam of OCSR and the Beautyful one was nibbling on something.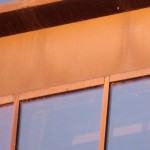 <Click it
At about 8am DC spotted something and flew off to the east, returned and landed closer to Beauty. Suddenly, DC flew off after another falcon to the south over the river and disappearing behind Thomson Reuters. Beauty didn't seem too concerned for she started eating again. It looked to be the same size as DC so I believe it was a tiercel (male falcon) probably passing thru as I never saw it again. DC returned, landed on the top ibeam south corner then flew off to the north this time. Beauty flew northeast soon after, returned to OCSR then left again. I went north and found DC on the Kodak Office (KO) launchpad southeast corner facing northeast.
At 8:33am DC flew off to the west out of view and half a minute later 2 falcons came into view. They were vocal as they touched talons then circled KO and flew west touching talons 2 more times, then leaving my field of vision. I came to the conclusion that it was Beauty and DC since they didn't seem to be acting aggressive when they came together. Perhaps it was their way of reassuring each other that the coast is clear now.
15 minutes later I found both Beauty and DC on the top ibeam southeast side of OCSR. I left to get coffee and when I got back Beauty was gone, but she came back to land near DC, who was napping with his full crop.
Beauty did some preening while DC took a nap. It was obvious from their relaxed state that the other falcon was gone.
Satisfied that the danger had passed, I ended the last watch of this year at 9:30am on a peaceful note with a smile! 🙂
Click on the links below to see todays videos