Wednesday, July 26th, 2017
By Rochester Falcon Watcher MAK
A much better morning weather wise as it was partly sunny and a chilly 58 (F) 14 (C)
Click on the pics to see the full version
The days are getting shorter making for a later start for my morning watches. I arrived downtown about 5:30am and checked the east side first from Woodbury St. It was still dark out but I managed to spot Beauty on the south side of Xerox, 6th column over from the southeast corner.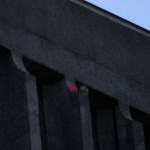 The crows were being vocal as they gathered on the railing of the Blue Cross building from the trees in Washington Square Park. Beauty flew out and back to land on the 5th column (her favorite) then she hopped back over to the 6th column before flying off to the west over the river.
I didn't see the Beautyful one from the Court St. bridge so I had a feeling she and Dot.ca (DC) were in the Powers nest box bonding. I checked the river real quick but didn't see any ducklings. I did see a Great Blue Heron.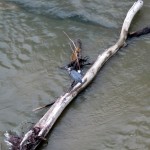 Next stop was the Andrews St. bridge where I spotted Beauty on the Powers camera. As I checked the archives I found that my suspicions were correct.
From there Beauty flew to the Frontier Communications tower (FCT) to perch on her northeast cube. I drove over to Fitzhugh St. for a closer look and also found DC on a crossbeam below the southeast cube.
I went back and forth from the City Hall parking lot where I could see the front of DC to Fitzhugh St. in front of the Sister Cities parking garage where I could see the front of Beauty. They were both preening on and off with DC pulling white down feathers out of himself, so he is also molting now.
DC pooped while his mate watched him from above. lol I decided to leave them to it around 6:45am to see if I could catch any falcons at Seneca Towers or Hawkeye.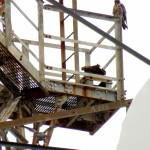 Unfortunately, no PEFA's were seen so I ended my watch at 7am. Keep smiling! 🙂
Click on the link below to see today's snippet video