Saturday, April 23rd, 2016
By Rochester Falcon Watcher Carol P.
Hello everyone!  Sorry for the delay!
I was out last weekend (4/16 & 4/17).  There was the normal activity by our downtown falcons Beauty and Dot.ca.  During the day they take turns in the nest, incubating the eggs.  So what we watchers see on the street is their comings and goings.  lol
There was one thing of interest that happened on April 16th (Saturday).  Watchers Dana and Dan were on Aqueduct St (aka "the hole") when a young juvie falcon flew over and a circled above the Times Square Bldg.  There was no aggression by either Beauty or Dot.ca.  It stayed in the area for a short while, but never landed.  Dana and I looked for the juvie, but never did find it. Here are a couple of pictures that Dana took of the juvie.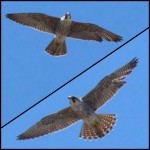 Here are some pictures I took last weekend.  There's even one of either Billie or Seth at Seneca Towers on the north end window ledge.
Saturday, April 16, 2015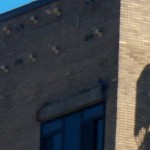 Sunday, April 17, 2016
Friday, April 22, 2016 (1:00 pm – 3:00 pm)
Yesterday, I went downtown for a falcon watch.  It was a beautiful spring day.  When I arrived, Dot.ca was on the top Ibeam of OCSR and Beauty was in the nest box on the eggs.  At 1:21 pm, DC flew to the nest box and in.  Beauty came out, flew around a bit, stretching her wings, and then landed on the Mercury statue's foot.
Beauty took off.  I went to look for her and when I returned to the Broad St Bridge, she was on the top Ibeam of OCSR.  Again she took off, this time on a hunt over the river.  Pigeons scattered everywhere!  All was peaceful and quiet for our downtown pair.
Here are a couple of pictures I got before my old Kodak camera decided to bite the dust.  The good news is, I was able to "fix" it last night.  I know it's on it's way to the old camera graveyard, but I'm trying to keep it "alive" for as long as I can.  🙂
It was such a beautiful day on Thursday (4/21), that watchers Lisa McK, Brian H, Susan C and I decided to take a trip to Braddock Bay to check out the migration.  Lots of Sharp-shinned Hawks passing over.  We also had a few Kestrels, Osprey, and a Red-shouldered Hawk (juvie).  We also had the good luck to see two male Harriers, the beautiful gray ghosts flying together over the marsh in front of us along with a female.  Lots of fellow birders were gathered to see the sight!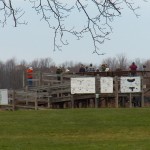 I'll end my report with this beautiful picture of Beauty and Dot.ca in the nest box that our main camera caught.  Enjoy!