Saturday, October 31st, 2015
By Rochester Falcon Watcher MAK
The sun was just coming up when I started out and it was chilly with a temperature of  34 (F) 1 (C). The sun started fading at the end of my watch and became overcast
After finding no falcons from Seth Green Dr. I drove over to East Ridge Rd. by St. Paul St. and found both Billie and Seth on the north end of Seneca Towers. She was on the roof right above Seth who was in his spot on the window ledge.
Seth was being his usual attentive self as he would look up to see if his girl was still up there every once in a while. Billie was scoping out their territory as she was facing south toward Hawkeye (HE). Ever since Buckee (the female from Wisconsin) came to town and started hanging out at HE I have seen Billie up on this end of the roof where she can keep tabs on the HE site.
At 8:06am Buffalo Billie spread her wings and got ready to fly north. As soon as she did this Seth flew off and they both disappeared to the north over the river gorge.
I left for downtown finding Beauty and Dot.ca (DC) pretty easily on Irving Place as I was driving down Exchange Blvd. I pulled into the parking lot next to Times Square to watch as the Beautyful one was eating on a chimney and DC below her on the roof.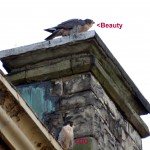 A few minutes later DC flew off and chased a pigeon and a few little birds, circling Widows Walk (WW) twice before coming to rest on the lower section northeast corner of WW. He continued to keep an eye on birds below him and Beauty who just kept filling her crop over on Irving Place.
At 8:57am DC flew back to Irving Place below Beauty for a few minutes probably wishing she would leave him some scraps.
Beauty continued to eat as DC decided to go back over to WW where he could see things better while Beauty continued to fill her already full crop.
Beauty finally finished eating and 5 minutes later at 9:13am she and DC flew north out of sight.
I went north as well but never found them so off to the Medley Center I went. I didn't find any falcons there but there were still some nice fall colors in the parking lot trees. Nothing seen at HE on the way there.
When I got home to Seneca Towers nobody was home so I ended my watch at 9:50am. Keep smiling everyone! 🙂
Click on the links below to see today's videos