Sunday, December 10th, 2017
By Rochester Falcon Watcher MAK
The weather yesterday (Saturday) was great for December in Rochester-sunny with a temperature around 40 (F) 4 (C). Today, (Sunday) it was overcast,windy and a chilly 32 (F) 0 (C)
Click on the pics to see the full version
Donna and her daughter, Kara came in late Friday night from New Jersey for a short weekend visit. They wanted to see a Snowy Owl so we went looking on Saturday morning checking from points east of Webster along the Lake Ontario shoreline to Braddocks Bay. No luck finding one but I took them to Durand Eastman park to check out what remains of the castle where the infamous "White Lady" lived since they are very interested in ghosts and the like.
Later in the afternoon we found Beauty and Dot.ca (DC) on the base of Mercury sharing a meal. We went down to the hole (Aqueduct St.) for an up close and personal visit with them.
First thing this morning as we were about to get in the car Donna spotted Billie and Seth flying to the east. When we checked from the Northridge Church at St. Paul Street and East Ridge Road they were back after a successful hunt. Billie was on the north end of the Seneca Towers roof with food and Seth right right below her on his favorite spot, the north window ledge.
Next, we headed down to Summerville for one more look for a Snowy Owl before they headed back to New Jersey. Bingo-we found one way out at the end of the pier. It was either a female or juvie Snowy. Mission accomplished although it was quite a distance away we were thrilled to see it!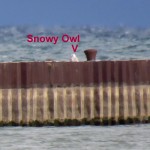 It was a fun weekend worthy of creating many smiles on our faces! 🙂
Click the links below to see a couple short snippet videos