Thursday, July 31st, 2014
By Rochester Falcon Watcher Carol P. (5:30 to 8:15 pm)
Watchers this evening:  Kathy O, Lisa McK, Brian H, Larry O, Dan & Jeanne (On the Broad St Bridge) and Carla P (on the Pedestrian Bridge).
It was an outstanding evening for a falcon fledge watch.  The weather was just about perfect, with very comfortable temperatures.  The rain had finally ended and there was a bit of a breeze.  Perfect weather for "our" falcons to fly high.
I met Kathy O and Lisa McK on the Broad St Bridge at approximately 5:30 pm.  Tesh was at the nest box.  She had been there for quite awhile.
This picture is courtesy of the RFalconcam Main Camera.  Tesh is turning out to be a gorgeous young falcon!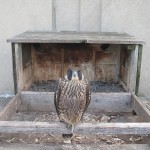 *
*
*
*
*
Here's a picture I took from below on the Broad St Bridge.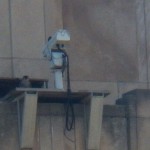 *
*
*
*
*
While we were keeping an eye on Tesh and talking about moving on to look for the other juvies, two juvies, a male and female, appeared flying above the Chase Lincoln Tower.  It was Nettie and one of her brothers!  They owned the Rochester sky moving between Chase Lincoln and the Xerox Tower.  Back and forth, landing, talon tagging and chasing.  It was a joy to watch these two young falcons.
*
*
*
*
*
*
*
*
I was lucky to get a short video of them flying together.  At the end of this YouTube video, both Nettie and her brother are directly above us, causing for a little shakiness.  Just click on this link to view the video of Nettie and her brother flying high!
******************************
******************************
While they were flying, we found the 4th juvie on top of the Times Square Bldg on the southeast wing ledge.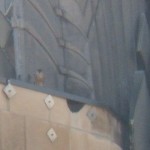 *
*
*
*
*
During the evening, watchers came and went and the falcons, all six of them, flew above us.  We did not see a food exchange, but we're pretty sure that Beauty dropped food on top of the Radisson.  We believe that there were 3, maybe all 4 juvies on top of the hotel roof.
*
*
*
*
There was a lot of flying over the river and the surrounding buildings.
*
*
*
*
We didn't have to wait long to find out where Dot.ca was hiding out.  Beauty let us know when she flew up into the elevator shaft and two came out.  Yep, Dot.ca was up there and Beauty let him know he was needed.  He took off heading southeast being chased by one of the juvies.  🙂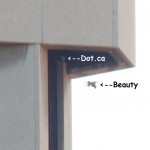 *
*
*
*
*
Beauty then landed on the OCSR top IBeam and kept an eye on her young ones as they kept landing on the Radisson roof.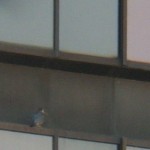 *
*
*
*
*
A juvie that we were unable to ID came in low, passing over us towards the library.  We were amazed to see this juvie fly up to one of the library windows and seem to grab at something there.  We never did see what the juvie was after.  It turned back towards us and made a very low pass over the river on the north side of the bridge right in front of us.  Very cool!
At 8:15 pm, Beauty was in the elevator shaft and the juvies were still flying over and back on the Radisson.  We hadn't seen where Dot.ca ended up.  It was time for me to end my watch leaving Dan, Jeanne and Brian H on a very busy Broad St Bridge.  There was a political function at the Blue Cross Arena aka War Memorial.  Carla had texted me that she was watching from the pedestrian bridge and seeing all the flying from there.
Take care all and goodnight!