Tuesday, June 30th, 2015
By Rochester Falcon Watcher MAK
Another dismal watch weather wise with rain on and off and a temperature of 62 (F) 17 (C) but before the rain came a beautiful sky from the east balcony at Seneca Towers and a double rainbow when I arrived on the Broad St. Bridge (BSB)-all this before the sun came up
As I was looking at the rainbows Beauty was peeking at me from the base of Mercury. 10 minutes later I spotted both juvies on Widows Walk (WW) from the hole.  Cadence was up on the north side railing and Genesee on the lower roof ledge northwest corner. I went across the street to the parking lot next to Times Square until he flew off, then I drove over to Broad and Fitzhugh St. until Cadence took wing as well.
I managed to catch up with Cadence on the northwest corner 2nd railing of the Powers building. From the Hochstein School of Music parking lot I could see her and also Beauty and Genesee on the small Frontier Communications tower. The Beautyful one was on a triangular deck at first then she moved over to an east side beam while Genesee was above on the top of the tower with his back to me. Beauty flew north and her son started whining and followed her a minute later.
After they left I turned my attention to Cadence just as Dot.ca (DC) delivered breakfast to Cadence on Powers. She grabbed it, ran around the corner with it and mantled it. DC walked down to the northeast corner then after he flew off Cadence started eating. After a while I left to check downtown for the rest of the family and found Beauty on the top arm of the jail tower. After checking her out from Court St. and Exchange Blvd. I drove to Plymouth Ave. and Church St. where I could see both Cadence and her mom.
Cadence walked to the north side railing and seemed settled so after Beauty left the jail tower I went searching again. I found Beauty on the top ibeam west corner of OCSR-she goes there to get some shelter from the rain as it was pouring at the time. Again I left to find Genesee and DC with no luck until I returned to check on Beauty and found her on the Mercury money bag (MMB) and Genesee down below the statue on the northwest corner of the railing. He kept looking up at mom and I could tell he was antsy-he flew off and attempted to knock his mother off the MMB twice! She managed to hang on both times but when he started approaching her again she flew off unscathed. I didn't see where he flew to.
I decided I had enough of the rain so I headed for home after checking from the Andrews St. bridge to see if Cadence was still on the north side of Powers-she was there.When I got to Seneca Towers I spotted who I believe was Seth fly off an antenna at the south end of the roof heading south. He didn't return so I ended my watch at about 9am.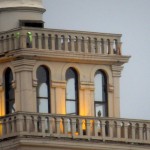 Genesee gave me the biggest smile today when he was messing with Beauty on Mercury-he is a wisenheimer! 🙂
Click on the links below to see today's videos-the last one shows Genesee trying to knock Beauty off Mercury