Friday, July 26th, 2019
By Rochester Falcon Watcher Carol P.
(Please be sure to click on pics to see them in full size.)
It's always a wonderful falcon watch when you see all 5 Rochester Falcons doing well!
When I first arrived, I spotted one falcon on the NE box on Frontier Comm Twr (FCT).  By the time I got there, the falcon on the box was gone and Dot.ca was on the top arm.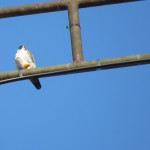 <— Dot.ca (DC) on the FCT arm.
Larry and his dog Zeke joined me in front of City Hall.  Larry spotted a falcon fly in and land near the disk.  It was Jupiter!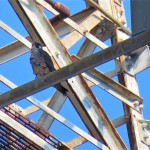 <— Jupiter on FCT.
After awhile, Jupiter took off.  Another juvie flew in and off towards the south.  We spotted a falcon sitting on the railing of Widows Walk (WW).  Larry had to leave, so I headed over to WW to ID the falcon there.  It was Lakota!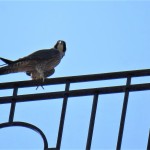 <— Lakota on WW railing.
So, I had 2 out of the 3 juvies.  Where could Phoenix be?
Another falcon flew in and landed on the railing near Lakota.  He was carrying a scrap of feathers.  After picking at the feathers, this juvie took off and flew past Lakota.  I was able to see the blue tape on the silver USFW band.  It was Phoenix!
First Phoenix, then soon after, Lakota took off heading north.  I drove around and couldn't find them.  So I headed back to the west side of Widows Walk.  From my car, I could hear very loud wailing.  After a few moments, I spotted two juvies up on the Times Square Bldg.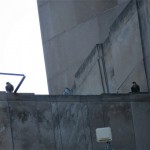 <— 2 juvies wailing on the Times Square Bldg (TSB).
A 3rd juvie, that I hadn't seen, took off and then another.  Beauty came by with food and the chase was on!  I could only see bits and pieces of the chase due to the buildings surrounding me.  Both ended up flying towards the Powers Bldg.  Beauty returned without the food and landed on the WW railing.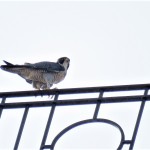 <— Beauty on WW.
1 juvie remained on the TSB, wailing.  Both Beauty and the Juvie took off.  All of a sudden, there were no falcons in view.
Over on the Andrews St Bridge (ASB), I spotted two falcon on the Frontier Comm Tower.  I parked in front of City Hall, just in time to see a food exchange south of FCT.  Dot.ca brought in a pigeon, which he transferred to Phoenix.  Phoenix flew low over the street I was parked on and disappeared from view.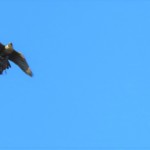 <— Phoenix with a pigeon.
That's when I saw Dana.  She thought that Phoenix might have landed on the roof of the building.  We looked, but couldn't find him.
We could still hear a juvie wailing up on FCT, and spotted both Dot.ca and Lakota up there.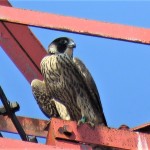 <— Lakota on FCT.
After awhile, we spotted a juvie really low on FCT.  We thought this might have been Phoenix.  He took off and so did Lakota.  They both ended up on the north end of City Place on the ledge that we call Beauty's Bathing Spot.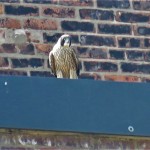 <— Juvie on City Place.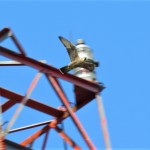 <— Juvie flying by FCT.
One juvie headed back to FCT.  It was Phoenix.  Dot.ca took off.  We could no longer see the juvie on City Place.
When I ended my watch at 11 am, I had seen all 5 Rochester falcons; Beauty, Dot.ca, Jupiter, Lakota and Phoenix.  It had been a very good morning falcon watch!
Here are a few pics from my Wednesday morning watch.  That day, I was only able to find Beauty, Dot.ca and Lakota.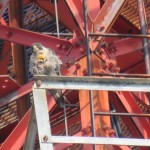 <— Beauty on FCT.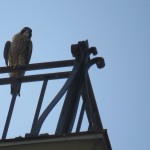 <— Lakota on WW.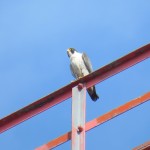 <— Dot.ca on FCT.