Friday, May 31st, 2013
By Rochester Falcon Watcher MAK
70 degrees (F) 21(C) at 5am on May 31 in Rochester,NY is unbelievable but that's what it was this morning. That's usually our normal high for the date. As I write this report it is 93 humid degrees out there!
As I made my way downtown Campgee tweeted that Dot.Ca (DC) came to watch over the little ones while Beauty left and came back with breakfast. Thanks for the help! When I arrived on Bank Place at 5:15am I could see DC on the Mercury money bag (MMB).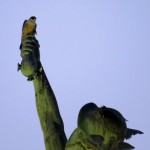 Camp also reported that the Beautyful one left the nest box and returned as I had my back to the Times Square building watching DC. I drove up to the Broad St. Bridge (BSB) around 5:30am and joined Dan who had been there since 5am. He told me that right after he arrived DC tried to mate with Beauty on Mercury-whoa!  He also told me that Beauty had gone to the base of Mercury and returned to the nest box around that time. We watched DC as he did a little stretching and preening, occasionally looking down at some little birdies below him.
Dan spotted a Great Blue Heron (GBH) on the roof of the Rundell Library as we sat there taking in all nature had to offer.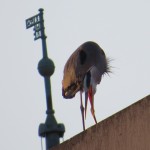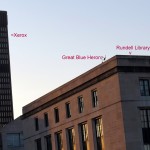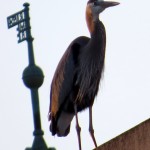 You must click on my pics to see the full version

DC flew off around 6:30am downriver past the Radisson Hotel scouting for prey I believe and turned around to land on the base of Mercury. He started picking at the cached food Beauty had stashed there earlier.
Dan left at this time and DC walked around to the northwest side of the base where I couldn't see him. I drove down to the hole to see him but he had given me the slip. I then took a ride up State St. to check the north side of OCSR and I found him on the north corner 2nd ibeam. I went over to Bragdon St. on the east side of the river to watch but he flew off to the north as I parked the car. I walked over by the northwest corner of the Radisson to have a look around and decided to snap off a shot from there to show the view.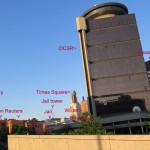 I left to check our Brighton location at this juncture. Pigott hadn't been seen yesterday and as I arrived there at 7:05am I couldn't find her again. Hopefully a watcher will see her tonight. Donna reported as I was still at Brighton that DC was babysitting while Beauty went and got food. Thank you! When I returned to the BSB there were window washers in a cherry picker washing windows on the Thomson Reuters building south side (Broad St.) and DC was on the MMB totally unfazed by it.
As I stood there watching the action I noticed Beauty come from nowhere and fly up to the nest box. DC was preening and checking out his big yellow feet.
All was quiet in the PEFA world with DC napping on and off so I ended my watch at 8:30am. Tomorrow I will be traveling to Toronto with Joyce to represent the Rochester falcon watchers at Frank (Big Frank) Butsons memorial service in Toronto Ontario, Canada so I won't be on watch in the morning. Keep smiling everyone! 🙂
Click on the links below to view a couple videos from my watch