Sunday, July 31st, 2011
By Rochester falcon watcher MAK
It took nearly a half hour before I found a falcon this morning. Not sure yet who it was on the northeast corner of the platform railing on the FCT but I suspect it was Archer.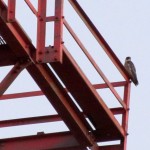 Must have seen the other go to the nestbox for it flew off to the south in the direction of Times Square. I watched until I couldn't see it behind buildings and then I tweeted it out. Donna reported they were both at the nestbox so I drove over to find Archer on the ladder of the Wilder building.
He wasn't there long before he was off  flying to the southeast toward the river. After looking around the Broad St. bridge area I drove over to the Court St. bridge and as I was east bound I spotted a falcon on a northeast corner of the Bausch and Lomb building and it had prey.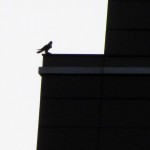 After a couple shots and not being able to determine who it was I continued on to find a closer vantage point and naturally while I did this it left. I returned to the Court St. bridge to look for it with no luck so I stopped for a few minutes to take some pics of the shore birds down in the river. They will be included in my album at the end of this report. 15 minutes  later as I was north bound on State St. I spotted a falcon on the east side of the FCT platform with prey.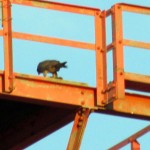 I assumed this was the same falcon as was on B&L and upon closer inspection I could positively ID it as the Beautyful one!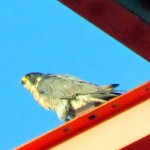 She was really going at this unlucky bird sending  showers of feathers out into the air! Toward the end of her meal she brought it near the edge so I could have a look at it. I believe it was a white pigeon.
Beauty spent an hour enjoying her breakfast and then moved to the right from where she ate to cache the leftovers. She then started to make her way further away from it.
Beauty eventually ended up on the north side of the platform where after cleaning herself up a bit she got comfy cozy and settled in for a nap.
This signalled to me that it was time to go! 🙂
Here's the link for more pics from my watch. Enjoy!
http://www.kodakgallery.com/gallery/sharing/shareRedirectSwitchBoard.jsp?token=257035582213%3A2039579872&sourceId=533754321803&cm_mmc=Share-_-Personal-_-Email-_-Sharer-_-Top