Wednesday, June 28th, 2017
By Rochester Falcon Watcher MAK
It was a mix of sun and clouds with a cold start of 52 (F) 11 (C)
Click on the pics to see the full version
I'll start with my brief encounter with the Seneca Towers brothers last night. I was doing therapy on my shoulder at my living room window when I heard a whining juvie. I grabbed my camera and went out on the west side balcony and found one of the boys on the west side railing.
A couple minutes later his brother flew in and off they went flying and talon tagging over Seth Green Park. I gladly shared space with them for about 5 minutes and then they were gone.
I arrived on the Court St. bridge (CSB) at 5am before Dan which is highly irregular. He showed up a minute later as we had both juvies flying over near the Powers building. When they were done they went to the column above the nest box. Dot.ca (DC) came in with a small package and dropped it off to a screaming Ontario who dove down to the deck to snag it from dad. DC went over to OCSR top I-beam south corner. B was over on the jail tower (JCT).
When he was done eating Lil O flew up to the nest box roof, then over to cam 4 and finally to the main cam. Beauty flew off and then both juvies were in the air flying around Times Square (TSB). Ontario ended up on the column above the nest box.
Larry and Zeke arrived at 6:30am and at that time DC delivered food to the northeast wing where Rachel and Ontario were at the time. Beauty came in and took the food over to the southwest corner of Wilder. Rachel followed her from the wing Ontario remained on wing ledge. DC had gone over to OCSR. Rachel took it from mom and hopped down on the Wilder roof to chow down.
Dan left at 7am and Larry wasn't too far behind him.  A few minutes later Rachel finished her breakfast and flew off to Widows Walk (WW). Beauty joined Rachel briefly then went to the base of Mercury.
There was a robin on WW with Rachel and he was very unhappy that she was there. Carol started her watch around this time from the Andrews St. and Carla joined me in the hole a few minutes later. Beauty switched to the other side of the base and Rachel took off and flew south.
Carla jumped in the car with me and we caught up with Rachel on the JCT. I drove to Troup St. for a closer view of her.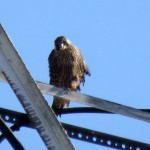 We watched the equally Beautyful Rachel until she flew off heading west then she made a u-turn and flew north out of sight.
Carla and I went back to the hole where I spotted Rachel on the OCSR roof and Carla spotted the Beautyful one on the top I-beam south corner of OCSR.
I had to get going-when I left DC was under the northeast wing and Beauty and Rachel were on WW.
I had to stop home before going to a therapy appointment so I quick checked Seneca Towers. I found Seth on the north end window ledge from the Northridge Church parking lot. He wasn't there for long as he stooped down into the river gorge a couple minutes later and never returned.
I ended my watch at 9:10am with a smile! 🙂
Click on the links below to see snippet videos from Seneca Towers last night and downtown this morning