Sunday, March 25th, 2018
By Rochester Falcon Watcher Carol P.
As we wait patiently for Beauty to lay her first egg………
*Be sure to click on the pictures to see them full size.*
My watch started at the Seneca Tower (ST) location at 9:15 am.  From Maplewood Park, I could not see any falcons on the building.  As I was driving towards downtown, MAK tweeted that she had seen both Billie and Seth this morning.
Downtown, from the Broad St Bridge (BSB), I found Beauty at the Times Square Bldg (TSB) nest box.  I was unable to find Dot.ca (DC) at first.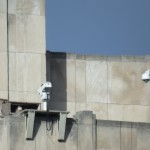 <— Beauty at the TSB nest box.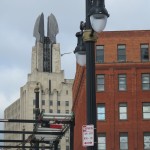 <— My view from the Broad St Bridge.
At 10:15 am, DC flew up to the nest box platform.  Beauty took off.  I was too far away to see if Dot.ca brought Beauty a food gift.  By the time I arrived in the hole (aka Aqueduct St) for a closer look, DC had taken off and was now on the top IBeam of OCSR.  He was looking very white in the sunshine.
Dot.ca and I waited patiently for Beauty to return.  She did, at about 10:50 am.  Beauty landed on the TSB nest box platform with a very full crop.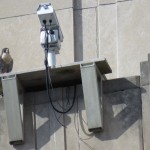 <— Beauty on the TSB Nest Box Platform.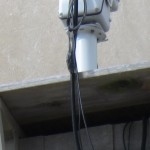 <— Click to see this pic!
A few minutes later, Beauty walked into the nest box and Dot.ca took off heading west.  I next time I saw him, he was circling above, keeping their territory clear.
I ended my watch at about 11:00 am.  Beauty will hopefully, soon lay her first egg!