Wednesday, April 29th, 2015
By Rochester Falcon Watcher Carol P.
2:45 – 4:15 pm
When I left work, Dot.ca was in the nest box on the eggs.  When I arrived downtown on the Broad St Bridge, I found Beauty on the Times Square Bldg on the lower SE corner.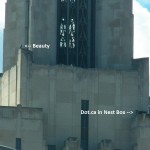 Soon after I arrived, there was a switch in the nest box.  I didn't realize it at the time.  Thanks Kathy O and Pat for letting me know that there had been a changing of the guard.  Beauty went into the nest box and Dot.ca came out, landing on the 2nd IBeam down on OCSR.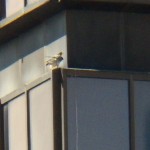 My view from the Broad St Bridge.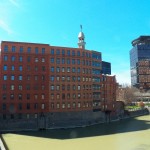 It was a gorgeous afternoon, with sunshine, blue skies and temps in the 60's.  Dot.ca walked down the Ibeam to the west corner.  From there he took off heading west.
I drove over to the Andrews St Bridge and found Dot.ca on the top arm of the Frontier Communication Tower.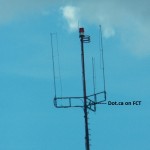 While I was watching Dot.ca there was a drone buzzing over the river.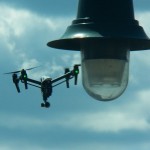 Soon after I returned to the Broad St Bridge, Dot.ca arrived, landing on the OCSR's top IBeam.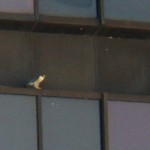 Dot.ca then flew over to the top of the Mercury statue.
Dot.ca was constantly moving his head, watching everything.  At first I thought he was in hunt mode.  He took off, flying fast towards the Times Square Bldg then turning left.  He wasn't hunting, he was clearing out his territory.  He was chasing a Crow that had come too close.  I lost sight of them as they flew down Exchange St heading south.
It wasn't long before Dot.ca returned to the top IBeam on OCSR to continue to keep guard over his family.
All was peaceful and quiet at the end of my watch.