Sunday, August 27th, 2017
By Rochester Falcon Watcher Carol P.
I love going out on a quiet Sunday morning to check on our falcons.  I quickly found both Beauty and Dot.ca on the Frontier Communication Tower (FCT).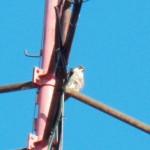 <— Beauty on Frontier Comm Twr Top Arm.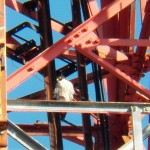 <— Dot.ca on FCT between SW and SE boxes, below platform.
Dot.ca took off while I wasn't looking.  After checking out the downtown area and not finding any falcons, I parked on the Andrew St Bridge (ASB).  Beauty was now gone from FCT.  But, I could see that there was a falcon on the top Ibeam of OCSR on the north side.  I believe that it was Dot.ca, but couldn't be 100% sure.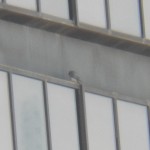 <— I think Dot.ca on OCSR.
I again drove around downtown Rochester (NY), but had no luck finding Beauty.  I even looked up into the OCSR elevator shaft.  No falcons there.  All was quiet and peaceful downtown, so I decided to go over to Maplewood Park to check out Seneca Towers.
From Maplewood Park, I could see no falcons on the building.  This was my view from there.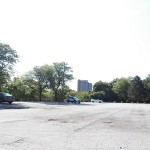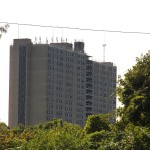 <— View of Seneca Towers from Maplewood Park.
On my way home, I checked out Kodak Park East and Kodak Park West.  Again no falcons found.
I was happy to have seen both Beauty and Dot.ca during my Sunday morning falcon watch.  Enjoy the day everyone!