Sunday, September 25th, 2016
By Rochester Falcon Watcher Carol P.
Made the rounds today to check on the Rochester Falcons and found all six of them enjoying the beautiful fall day.
Here they are!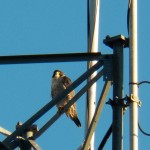 <— Genesee on the Coast Guard Tower.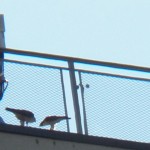 <— Billie and Seth sharing a meal at Seneca Towers.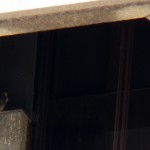 <— Beauty Up Inside the OCSR Elevator Shaft.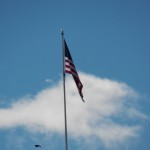 <— A Dot.ca Fly By below the Powers Bldg Flag.  Look below the flag on the left side of the pole.  🙂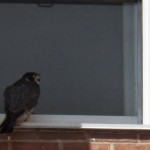 <— Falcon (female) at the BS Location.
I thought I'd share a couple pics I took of Genesee when he visited with us in a tree on the Charlotte Beach.  (9/5/16)  Enjoy!