Wednesday, April 30th, 2014
By Rochester Falcon Watcher MAK
I sure am liking the sunrises I'm seeing when I leave for my watch from my new place. This morning the starting temperature was 46 degrees (F) 8 (C) with overcast skies and spitting light rain on and off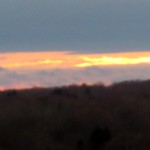 Make sure to click on my pics to see larger version
At the end of my road (Seth Green Drive) I came across a wild turkey on the way to my watch!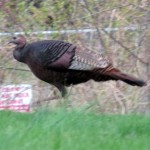 I arrived on the Broad St. Bridge (BSB) around 6:15am-Annette had reported Beauty was on the eggs so I went searching for Dot.Ca (DC)I couldn't locate him so I parked in the hole and waited for him to show up.  At about 6:50am DC came streaking thru from behind the Times Square building (TSB) heading northeast over the Wilder building and out of view. I went up on the BSB but didn't see him anywhere so I returned to the hole-20 minutes later DC arrived on the well wall with food.
Somehow Beauty managed to leave the nest box without me seeing for she suddenly flew in landed and took the food over to the base of Mercury.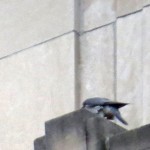 <Click it
I tweeted out what happened and she left while I was doing so. I went up on the BSB and could make out tail feathers hanging off the north side roof of Bausch &  Lomb (B&L) at 7:12am. Drove around to find the best place to view her-ended up next to Clinton Square right below the Beautyful one.
This is all I saw until she was done eating-Beauty then turned around to do some feaking. I then drove to Stone St. which runs between Clinton Square and the South Ave. parking garage to see her better. She pooped,did some more feaking and flew off heading north at 7:30am
I found Beauty 10 minutes later on the top ibeam northwest side of OCSR from the Andrews St. bridge.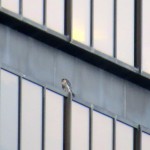 I then drove to State St. and parked across from the Rochester Plaza Hotel to get a closer view but all I could see was her Beautyful back-however she did turn her head for a pic.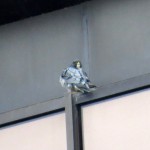 P.S. Thanks for your help Annette!
One video below-just click on it to view