Monday, May 27th, 2019
By Rochester Falcon Watcher Carol P.
I've been out weekly, along with many other watchers, keeping an eye on the falcons, making sure all was peaceful and quiet.
The eyases are getting bigger and bigger and Beauty and Dot.ca are hunting and bringing in lots of food for their growing young ones.  They've also been busy keeping their territory free of intruders, including the many Turkey Vultures that are floating through on migration.
Here are a few pics from my recent watches.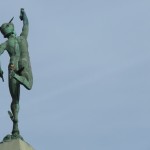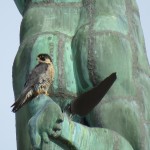 <— Beauty on Mercury, while DC was with the eyases.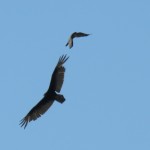 <— Beauty escorting a TV out of her territory.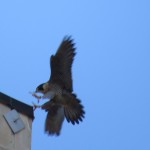 <— Beauty lands on the wing ledge on the TSB.
Enjoy this Memorial Day, and remember those that we've lost and those that have served and still serve.  <3