Wednesday, March 30th, 2016
By Rochester Falcon Watcher Carol P.
I was keeping an eye on the live streaming video feed most of the day.  Everything was quiet in our downtown falcons world. Beauty and Dot.ca were switching off, each taking a turn on the three eggs in the nest box on the Times Square Bldg. I even witnessed them copulating (mating) twice on the pan cam (aka Camera #1).
At approximately 5:00 pm, that all changed.  Dot.ca was on the eggs.  He stood up and started to alarm kak kak kak!  He took off fast diving down heading east.  The folks that were on live streaming video started to chat, wondering what was going on.  A few seconds later, we could see a falcon fly by pan cam and away again.  Something had entered Beauty and Dot.ca's territory and they did not like it.  It was time for me to head downtown.
Before I left, I checked one more time to see what was going on.  Dot.ca was back inside the nest box on the eggs.  Falcon Fan NCA said she had seen a quick glimpse of a tail on camera at the Powers Bldg nest box.
When I arrived downtown, I could not find any falcons.  NCA tweeted that Dot.ca was inside the nest box, but they had not seen Beauty return.  Other falcon watchers arrived.  I was joined by Joyce and Kathy O.  We split up and searched for Beauty. I met Kathy O on Aqueduct St (aka "the hole").  We were just getting ready to go to the Broad St Bridge, when Beauty flew in from the east and landed on the corner of the nest box platform.  We parked by the Blue Cross Arena (aka The Rochester War Memorial). From there we had a good view of the nest box.  Joyce joined us a few minutes later.
Beauty on Nest Box Platform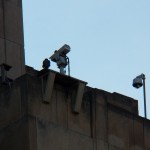 Beauty entered the nest box and Dot.ca flew out to land on top of the Mercury Statue.  We spotted Dan on the Broad St Bridge and joined him.
Dot.ca on Mercury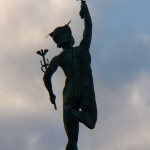 Our View from the Broad St Bridge as the Sun Set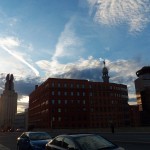 Great Black Backed Gull Bathing on the Genesee River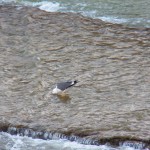 We chatted with Dan for awhile.  This is his 18th year watching the Rochester Falcons!
Dot.ca took off heading west.  He ended up on the OCSR's top IBeam at the west corner.
Dot.ca on OCSR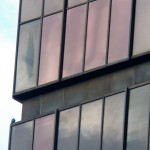 It was getting cold, so it was time to end our watch.  All was quiet and peaceful.  We never did see the intruder, but I had to wonder if it might have been the same female Peregrine Falcon we saw Beauty chase out of the area on Easter Sunday.  We'll keep watching!
A huge thanks to the on line watchers that helped out with today's watch.  NCA and Kris G, you help was much appreciated!
Oh, and we are on egg watch now!  As I type this, Beauty is in the nest box and if she does lay a 4th egg, I expect it will arrive early tomorrow morning!  🙂