Wednesday, September 30th, 2015
By Rochester Falcon Watcher MAK
A dark, rainy, miserable morning with a starting temperature of 58 (F) 14 (C)
I saw one falcon on my short watch. And I'm not sure who it was after reviewing my lousy pics and snippets (due to weather conditions). First of all, my tried and true Seneca Towers falcons were no where to be found as I started out at 7:15am-I had to wait for it to get light enough out to see anything.
Once downtown I did my usual check from the Andrews St. bridge and saw nobody. I thought for sure Beauty and/or Dot.ca would be up in the OCSR elevator shaft out of the weather but I didn't see a falcon up there on either side. When I stopped on Woodbury Blvd. on the east side of the river I spotted a falcon on the east side of HSBC with its back to me.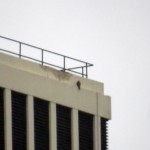 I parked south of Martin Luther King Jr. Park and thought I was looking at Beauty as it had a dark front. After checking my pics on my computer I now believe it was a juvie as it looks too dark and in the snippets it didn't really move like the Beautyful one. It was probably Genesee.
Due to the weather and distance the rest of my pics were really bad. Unfortunately, I couldn't stay as I had to take a friend to a doctor appointment. While I was waiting I did a quick check of the Medley Center but there were no PEFA's there and when I got home to Seneca Towers at 10:10am I didn't see Billie or Seth on the building. Kind of a dismal watch but I did see a falcon and as far as I'm concerned, a day without seeing a falcon is like a day without sunshine-so there was still reason to smile! 🙂
Click on the link below to watch a very short snippet video