Sunday, November 27th, 2016
By Rochester Falcon Watcher Carol P.
I was out and about most days this week, checking on our falcons.  Most mornings and some evenings I see Genesee down at the Charlotte/Summerville area.  He usually shows up on the Shumway antenna between 6:30 – 7:00 am and heads out to hunt.  Now that it's getting dark early, Genesee will show up between 4:30 – 5:00 pm before flying south.  I usually join watchers Dana and Kathy O for these early morning and late afternoon Genesee Watches.
On Friday morning, Genesee had two falcon encounters.  They may have been the same falcon, but he reacted differently in both situations.  The first one happened when a falcon flew in from the south, low over the river.  Genesee spotted the falcon, who may have been hunting ducks on the river.  He started to alarm kak and took off.  Dana and I watched as Genesee chased the other falcon over the O'Rorke bridge and then return to the Shumway antenna.  We know he is very territorial right now, chasing Coopers Hawks, Merlins, Red-tailed Hawks and Bald Eagles, so it did not surprise us that he would chase a Peregrine out of his area.
About an hour later, Genesee became very antsy, looking straight up.  This time he started to ee-chup, over and over, very loudly.  He never left the Shumway antenna.  While I was watching Genesee, Dana spotted a Peregrine flying overhead. This is definitely what got Genesee's attention.  We thought that it may have been a female, since his behavior was different than the first encounter, ee-chup vs. alarm kakking.  Was he trying to call her down?  Being able to watch this young falcon's behavior has been fascinating.  🙂
Over the past week, I've seen Genesee, Beauty & Dot.ca, one falcon at Seneca Towers (too far to ID), one falcon at Hawkeye on the railing (based on size a male, but I could not ID) and the unbanded female at the Brighton Site.
Here are some pictures from my watches.  Enjoy!
November 23, 2016
Genesee eating on the Shumway antenna.
November 24, 2016
An early morning sunrise over the Genesee River.  A glimpse of Genesee's world.
November 25, 2016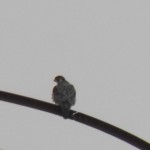 <— Hawkeye – Unidentified falcon on railing.  Male based on size.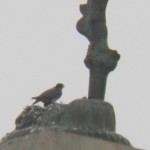 <— Downtown – Beauty eating on base of Mercury.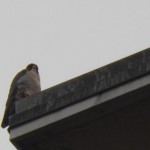 <— Brighton Site (BS) – Unbanded female.
November 27, 2016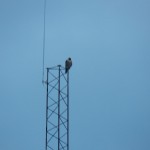 <— Charlotte/Summerville – Early Sunday Morning – Genesee on Shumway before heading out to hunt.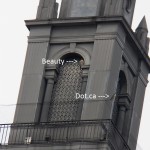 <— Downtown – Beauty and Dot.ca on the Kodak Tower.
I found both Beauty and Dot.ca on the Kodak Tower today.  Beauty was on the south side arch ledge, above where the old Mariah and Kaver nest box used to be located.  Dot.ca was on the southeast corner of the playpen netting, just below her.  He was in hunt mode, stooping down the south face of the building, flushing and chasing the pigeons that were hiding on the Kodak letters ledge.  He did this quite a few times, but was not successful while I was there.  Beauty watched him from above.  🙂
After ending my downtown watch, I headed back to Seneca Towers (ST).  From Maplewood Park, I saw one falcon on the north end railing near the northwest corner.  It was too far for me to tell if it was Billie or Seth.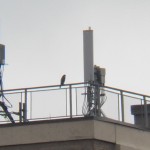 <— Seneca Towers – Billie or Seth?
Happy Thanksgiving everyone!