Tuesday, April 30th, 2013
By Rochester Falcon Watcher Carol P.
Last day of April and first day of filming the Spiderman 2 movie in Rochester, NY.  I got a late start, arriving downtown at about 6:30 pm.  Main St and all of the smaller roads intersecting Main St were closed.  Police with barricades at every street.  Before I left home, Dot.ca had arrived in the nest box and Beauty left.  I drove down the Broad St Bridge slowly, trying to find Beauty.  There was no way to stop to look anywhere on Broad St, due to all the buses and people waiting for them.  But, on the way back, I did find Beauty.  She was on the base of the Mercury statue on the north side.
I drove around trying to find a parking spot, finally finding one on Broad St between the Times Square Bldg and the Democrat and Chronicle Bldg.  It was after 6:30 pm, so I didn't have to feed the meter thankfully.  I parked my car and walked across Broad St. to the front of the Times Square Bldg (TSB) on Exchange.
This was my view from the front entrance of the TSB looking north down Exchange towards Main St.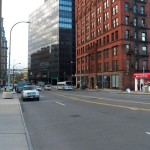 *
*
*
*
*
From there I had a nice view of the Mercury statue and I spotted a falcon up on the money bag hand.  At first I didn't know if it was Dot.ca or Beauty.  Rfalconcam Forum member Ei let me know that Beauty was back up in the nest box, so this was Dot.ca on Mercury.  Thanks Ei!
*
*
*
*
Dot.ca took off and headed west fast!  By the time I got over to the north side of the TSB to see where he went, Dot.ca had returned and was up on top of the TSB on the NE wing ledge. This was directly above the nest box.
*
*
*
*
I walked down to the corner of Main St and Exchange to see if there was going to be anymore filming for the Spiderman movie, but it was quiet.  While I was there, Dot.ca took off and headed west again.  This time I did not see him return.  He possibly headed to the BS location to visit with Pigott, but I couldn't be sure.
Kathy O joined me in front of the Tim Hortons on the corner of Main and Exchange.  From there we walked around a bit to see what was going on.  There were lots of folks just walking around and enjoying the beautiful evening.  Most had their camera phones out and were clicking away.  The streets were lined with NYC vehicles of all kinds, including NYPD police cars, all kind of different vans, cabs, buses and a very cool armored truck.  Filming was done for Day 1 of 10.
Beauty and Dot.ca did not seem to be bothered at all by all the activity just down the block from their nest box.  They were used to the sounds of Rochester traffic, including lots of loud sirens.  So this was probably just another day for them.
I'll leave you with a few pics I took this evening.  Goodnight everyone!
*
*
*
*