Wednesday, July 31st, 2013
By Rochester Falcon Watcher Carol P.
6:00 to 9:00 pm Falcon Watch
It was another beautiful day in Rochester, NY with temps close to 80 degrees (F) and overcast.  There were a few sprinkles as I was heading towards downtown but it stopped.  I arrived at the Frontier Communication Tower at about 6:00 pm.  I could find no falcons there, so I checked out the surrounding area.  There was one!  Or at least a tail, because that is all I could see.  It was a juvie on the NW corner of the Launchpad of the Kodak Tower.  You have to follow the falcons, so I headed over to Kodak for a closer look.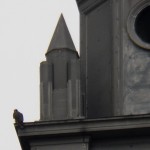 *
*
*
*
*
Kathy O was with Dan S on the Broad St Bridge.  Lisa joined me at Kodak and just after she arrived, the juvie took off heading SE.  I was able to follow the path of the juvie's flight all the way to the other side of the Chase Tower.  Time to move and check out the area the juvie was last seen.  Off we went.
Kathy tweeted that there were two falcons on Midtown Plaza, plus a 3rd.  The juvie's were on top at the SW corner and the other falcon was definitely an adult.  I parked near the S Clinton/Broad St intersection.  I could see the adult just fine, but only got glimpses of the two juvies on top at the SW corner.  Every now and then a wing would appear.  lol  As you can see in the picture, Midtown Plaza is a literal shell of itself.
*
*
*
*
After awhile, Dot.ca joined the two juvies and ate a little bit himself.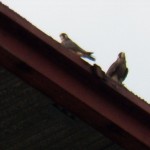 *
*
*
*
*
Near Midtown Plaza is my favorite downtown clock tower.  Not sure what building this is on.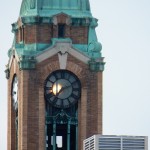 *
*
*
*
I
I joined Kathy O and Lisa near the library on Broad St.  The same place we had Watchers Weekend.  All three stopped eating and it was time to fly.  We watched them enter the building and come back out.  There are lots of pigeons there, so chasing them seemed to be the thing to do.  Lots of hunting practice for them.  At one point we saw a bunch of pigeons fly out of Midtown and dive.  We were all viewing them through our binoculars and saw that there was at least on falcon in the center of the panicky pigeons.  The falcons were doing most of their flying down at the east end of Midtown so we decided to head over that way.  Just as we were leaving, Shaky joined us.  We all drove over to Chestnut St and parked in front of Manhattan Square Park.  From there we have a great view of Midtown and the surrounding area.
*
*
*
*
Kathy O, Lisa McK, Shaky and I watched from there for awhile.  Dan S passed by on his way home and Larry O tweeted that he was over at the Andrews St Bridge and could see no falcons.
After a long time, Both juvies took off from Midtown and headed NW around the north side of the Chase Tower.  Shaky checked the cameras on his phone and saw that there were two falcons on the Frontier Communication Tower.  That's where we all headed, except of Lisa who had to leave.  We left Dot.ca on the SE corner of Midtown Plaza.
On the way over, I stopped to confirm Shaky's sighting of Beauty on the Jail Comm Tower.  She was still there.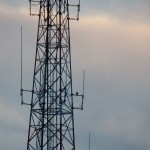 *
*
*
*
*
Kathy, Shaky and I met at the Hochstein School of Music Parking lot, where we had a great view of the two juvies there.
*
*
*
*
Both were constantly looking north, until they both took off and flew quickly in that direction, towards the Kodak Tower.  That's where they met a 3rd.  It was too far to see if this was indeed the 3rd juvie, but their behavior was typical juvie meet and greet.  It was time to play and talon tag, until two landed on the cupola and the 3rd flew around to the south side.  We circled the K-Tower but none of us could spot the 3rd falcon.  It was getting dark and really hard to see.  Kathy left and Shaky and I continued to search.
We met on the west side of the K-Tower to get a better look at that side.  Now where did s/he go?  Because they were both looking north, I have to wonder if the 3rd juvie was hanging out in that direction somewhere.  I will be sure to start checking the Kodak Park area, the same place where  Unity, Archer and other Peregrine's have been seen.  They can easily see the tall stacks of KP from KO and with their speed, it would only take a few minutes.
As darkness descended, I saw one of the two juvies up on the cupola take off and fly over me heading west.  This juvie was on a night hunt, chasing a small sparrow-sized bird over the Kodak Parking Lot, missing by inches!  The juvie pulled up and headed SE.  The hunting juvie landed on the top arm of the Frontier Comm Tower.
When Shaky and I left at 9:00 pm, we could only see one on the Kodak Cupola.  I cannot verify 100% that there were 3 juvies at Kodak, but based on behavior, I do believe there were three.  We know we saw both Beauty and Dot.cat during our Watch.  I think we had the whole family.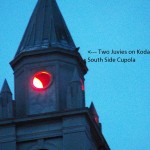 *
*
*
*
*
Goodnight everyone!  Tomorrow is another day to get out and see what's going on with the Rochester Falcons!