Sunday, November 30th, 2014
By Rochester Falcon Watcher Carol P.
It was a wonderful weekend to be out and about watching falcons.  Beauty and Dot.ca were very active this weekend.  I saw them hunting, having dinner together, defending their territory and just hanging out with each other.  Here is just a little bit of what I saw on my weekend falcon watches.  Enjoy!
Just put your cursor over a picture and it will describe what it is.  You can enlarge any of my pictures by clicking on them.
Saturday, November 29, 2014
*
*
*
*
*
*
*
*
*
*
*
*
*
*
*
*
*
*
*
*
*
*
*
*
I ended my Saturday watch with a stunning sunset at Buck Pond.  Love this spot for sunsets!
*
*
*
*
Sunday, November 30, 2014
My day started with a visit from my neighborhood Red-tail Hawk.  She loves to sit up in these trees.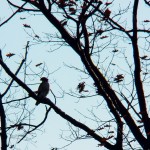 *
*
*
*
*
This morning fellow watchers MAK and Larry O reported that both Beauty and Dot.ca were actively hunting over the river and the Cornhill area.  When I arrived, I found both Dot.ca and Beauty on the Widows Walk, which is behind the Times Square Bldg on the west side.  Dot.ca was eating with Beauty by his side.  She had quite a large crop and he was working on expanding his own.  Both were well fed today.
Here are my pictures from today's falcon watch.
*
*
*
*
*
*
*
*
*
*
*
*
*
*
*
*
So ends my weekend falcon watch.  I enjoyed every moment of the time I spent with Beauty and Dot.ca!  Hope you enjoyed it too!