Thursday, October 31st, 2013
By Rochester Falcon Watcher MAK
It was like a heatwave this morning compared to the last few days as the temperature was 44 degrees (F) 7 (C) unfortunately it was dark, kind of ghoulish and raining.
Despite the weather our falcons still have to tend to business and so do I. When I drove down Ajax Alley behind HSBC I spotted a falcon on the north side of the roof at 7:40am.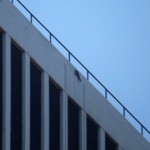 There was no way to ID this bird from there so I went to my spot on Chestnut St. near the Hotel Cadillac and could clearly see that it was Beauty and she was eating.
10 minutes after arriving the Beautyful one managed to slip away without me seeing. I went to the Broad St. bridge (BSB) to check Mercury as I had gotten a tweet from cam watcher FlaDonna that she thought she saw a falcon on the statue. Nobody was on it when I got there but thanks for trying to help me out from Florida! After an extensive search around the city the only thing I saw hanging out on  a building was the OCSR window washers who are still working on the northeast side.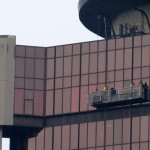 I left for the Brighton site, arriving at 8:45am I found Pigott on the northwest corner of the west extension eating. She was quite wet but it had stopped raining momentarily.
Miss Pigott got spooked and stopped eating soon after I got there looking southeast cranking her neck up to see something. I didn't see anything from the ground. She picked up her food and dropped it once so I knew she wasn't done eating yet.
I hung with her for about an hour and returned to downtown around 9:45am. As I was on the BSB looking at the Times Square building I thought I caught a falcon fly up in the OCSR elevator shaft out of the corner of my eye. I drove over to Main St. by the Radisson Hotel to look and there was one up there on the north side.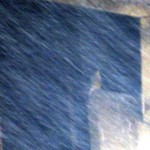 It was raining hard at this time but I could see white  so I figured it was Dot.Ca (DC). I was surprised that a falcon would go up in there while there were window washers right below the elevator shaft but I guess he wanted shelter from the rain more than avoiding people.
At this point I wasn't positive  this was DC so I set out to check for a second falcon. I found one on the northeast cube of the Frontier Communications Tower and it was none other than Beauty so now I knew DC was in the elevator shaft.
I was content having seen all 3 of our Rochester Peregrine Falcons so I ended my watch at 10am happy and smiling! 🙂
P.S.  HAPPY HALLOWEEN!
Click on the links below to watch our wet falcons on video