Saturday, August 31st, 2013
By Rochester Falcon Watcher MAK
Another soupy day from some very oppressive humidity. It was overcast and dark with a starting temp of 73 (F) 23 (C)
Darkness hung on a long time this morning making for some bad photos but in the darkness I found something bright as I arrived downtown around 6:10am on my way to the east side via the Court St. Bridge. The colored lights on the Rundell Library were still going  so I stopped to shoot a video before continuing on to look for Beauty. I found her on the southeast corner of HSBC .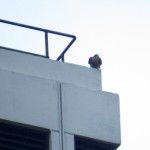 She was on the hunt as she stooped twice and returned to the same spot with nothing to show for her efforts. At 7am the Beautyful one flew off to the west above Xerox out of view. As I was looking for her from the Andrews St. bridge I spotted Dot.Ca (DC) on the top ibeam at the north corner of OCSR. I drove to State St. across from the Rochester Plaza Hotel to observe.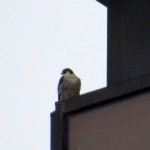 DC took off at 7:19am after a short stay on OCSR. As I stopped at the intersection of Church and Fitzhugh I noticed 2 falcons on the northeast corner of City Place. I got very excited-thinking juvie since that's where our juvies hung out a lot. It was actually Beauty and DC.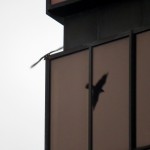 <DC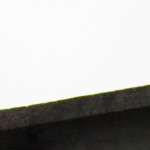 <Click on my pics for a full version
They flew off soon after I landed in the Hochstein parking lot to watch. Beauty had prey in her talons and DC wanted it-he tried to take it from her by flying under her and inverting himself which is classic food exchange form. Beauty thwarted his attempt and they both flew over to the  Frontier Communications Tower (FCT). Beauty landed on a south side beam in the lower white section and DC came to rest directly above her in the lower red section.
Beauty began plucking feathers and eating while DC could only watch from above and let out a little whine now and then.
I looked up and couldn't see DC-I didn't know if he left or just moved in where I couldn't see him but I decided to go to Brighton and look for Pigott around 7:45am. I found her easily as she was on the south side roof at the west end of the building. I shared space with Miss Pigott for about 10 minutes when she stooped to the southeast.
I had somewhere to be so I ended my watch at that time but as it turned out my watch was extended because while driving across the Driving Park Bridge I spotted a falcon. Of course I had to investigate-I pulled over and put my hazard flashers on and started clicking away. It was a juvenile Peregrine Falcon and it was eating on the west side roof of the Kodak Hawkeye plant on St. Paul Blvd. Distance and darkness did not work in my favor in ID'ing it but I don't think it was banded. I believe it was female judging by the size and quite dark.
Several crows started harassing it and it was squawking at them before it flew off to the south onto a lower roof. The crows left it alone after that.
The juvie really looked dark and I thought that if it was one of ours it had to be Rosetta but I couldn't see any bands so I can only speculate. It walked to the south end of the roof it was on and I whipped down to the east end of the bridge where I thought I could get a close up pic and ID it. No such luck-I had time for one pic before it flew off after an Osprey to the south. It was 9:20am and now I really had to end my watch.
I had noticed one particular window that stood out on the building and so I will end my report with a pic of it.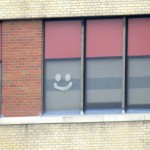 Keep smiling! 🙂
Click on the links below to view more pics and MANY videos
http://share.shutterfly.com/action/welcome?sid=0AaN3DFm0ZMWqij8
http://youtu.be/noX28fmiVb8
http://youtu.be/gKpuqHwGfj0
http://youtu.be/wTK9J_qa4KE
http://youtu.be/ga04RYK0ixI
http://youtu.be/zKVjubPPZYA
http://youtu.be/KodqCHGOc2Y
http://youtu.be/kTpBAhJCPjI
http://youtu.be/Es0xTl2DyBo
http://youtu.be/CyCFk0cAqeA
---