Monday, November 30th, 2015
By Rochester Falcon Watcher MAK
This morning's starting temperature was 31 (F) -1 (C) . It started out with some dark skies but they moved on making way for bright sunshine and blue skies
I went out to Seth Green Dr. after checking the north end of Seneca Towers (ST) and finding no falcons. As I was making a U-turn to face the building Billie and Seth came flying in from the south to the northwest corner. She landed on a transformer and he landed below her and the railing.
Buffalo Billie flew off to the south going into a stoop near Seth Green Park and Seth took off after her. Billie returned and landed on the northwest corner railing.
I wanted to check the north end of ST to see if Seth was back there so I headed over to East Ridge Rd. On the way as I was crossing the overpass bridge on St. Paul St. I saw Billie flying southward down the east side of ST. When I got over to my spot I could see Seth on the north window ledge and Billie on the south end antenna. She flew off and just as I got my camera on him, Seth flew off after her.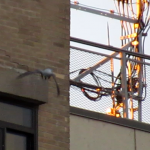 They didn't return so off I went to check downtown. Just before 8am I found Beauty on the top I-beam southeast side of OCSR. The sun was lighting her up as I struggled to get a half way decent pic of her from Broad St. next to the Blue Cross Arena.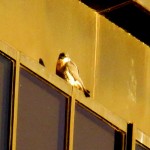 I decided to go to the Radisson Hotel by Main St. for a different angle. She was only there a couple minutes-she pooped and spread her wings and turned around.
At 8:04am the Beautyful one took off and flew west where I lost sight of her behind the Wilder building. I suspected she went to Widows Walk (WW) when she didn't come back into view because that's the direction she was heading. Sure enough, I found her on the north side railing of WW as I pulled over on Basin St. in the hole.
Beauty didn't stay there for long either as she was in hunt mode and spotted something over by Broad St. She dove off at 8:22am came back up to circle WW before leaving my view.
I drove over to Broad St. on the west side of Fitzhugh St. where I spotted Beauty on the northwest corner of WW below the railing plucking feathers. So whatever she went after she caught successfully. She had her back to me so I changed locations to Fitzhugh St. where I was much closer to watch.
It was a very small prey bird (a sparrow I think) that she caught as I got a good look when she picked it up to change positions.
I left her to it and went in search of Dot.ca but never found him. There was no PEFA's at the Medley Centre or Seneca Towers as I ended my watch at 9:15am. It made me smile to see Billie and Seth together on the building and on the wing today! 🙂
Click on the links below to see the videos from today's watch