Saturday, May 31st, 2014
By Rochester Falcon Watcher MAK
It was another sunny morning with a starting temp of 50 (F) 10 (C)
Yesterday afternoon I saw Veteran fly off t he Veterans Bridge going east and this morning the female 67/AR flew past my window several times wailing.
When I arrived downtown this morning for my watch I found Beauty under the northeast wing of Times Square (TSB). She was looking north-most likely waiting for Dot.Ca (DC) to deliver breakfast for the family. Beauty also looked down toward the nest box a few times as well. I watched from the hole parking lot.
The Beautyful one suddenly flew down to the nest at 6:52am and then back out across to the OCSR building squawking as she landed on the top ibeam west side next to DC who had food. He didn't let her have it there so she screamed at him some more-he then flew off followed closely by Beauty. A mid air food exchange took place over the Philippone building before DC flew to cam 1 and Beauty to the nest box to feed the kids.
Less than 5 minutes later DC flew to the top ibeam west corner of OCSR.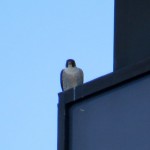 Click on my pics for full version

DC turned his back to me so I went over to State St. to observe him and on the way I discovered Main St. was blocked off  for the annual clean up of the log jam below the Main St. bridge. The Broad St. Bridge was getting filled up for  graduation ceremony of Monroe Community College at the Blue Cross Arena and also an event at the Rochester Convention Center. A busy downtown this morning!
While I was gone getting coffee DC left OCSR and I could see Beauty on cam 1-as I got back to the hole dhe flew down to the nest box around 7:40am. I went to the Andrews St. bridge looking for DC and spotted him on the 2nd arm of the Frontier Communications Tower (FCT).
I drove to Fitzhugh St. to check out DC but he left before I got there. I returned to the hole and decided to walk down to Aqueduct Park to check out the log removal. To my surprise Larry and his dog Harold were down there so we watched together.
At 8:07am I received word from Donna that Beauty left the nest and that DC was now in there and a few minutes later she reported Beauty on cam 1. I could see Beauty thru an opening in the trees at the park. Thanks for your help Donna!
Larry and Harold left and I was ready to call it a watch myself as it was getting very busy on the ground. It was however, all quiet up in falcon land as I passed thru the hole with Beauty on cam 1 I had to smile about that! 🙂
Click on the links below to view todays videos