Tuesday, December 27th, 2016
By Rochester Falcon Watcher Carol P.
Here we are.  Christmas is done and 2016 is coming to an end.  I wanted to get out today to check on our falcons. To do a headcount.
After a high of 50 degrees at midnight, it was 36 degrees during my watch.  Most of the snow that had accumulated over the past few weeks was all but gone.
After checking Charlotte/Summerville, Seneca Towers and Hawkeye, with no falcons found, I headed downtown.  It didn't take me long to find both Beauty and Dot.ca side-by-side on the south side of OCSR on the top Ibeam.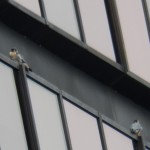 I kept watch from Aqueduct St, aka "the hole".  There wasn't much traffic downtown due to the holidays, so it was easy to find a place to park.  The neighborhood pigeons came to visit and I gave them some of the seed I always carry with me in my car.  They were very appreciative!  🙂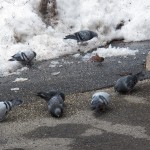 Beauty and Dot.ca were settled in, so I drove over to the Brighton Site (BS).  I found a falcon on the east side tree ledge.  She never turned around the whole time I was there, so I can only assume that it was our unbanded female.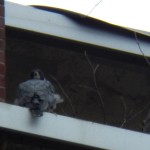 I stayed there for awhile hoping to get an identification.  No luck.
Back downtown, I parked on the Court St Bridge.  Beauty and Dot.ca were still where I had left them, on the south side of OCSR.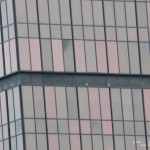 While I was there, Beauty took off on a hunt, chasing the pigeons down the river.  She returned, empty-taloned, landing next to Dot.ca.  Soon after that a Coopers Hawk flew through the area, again scaring the pigeons that had just settled down.  Both Beauty and Dot.ca ignored the hawk.
They were working on the Blue Cross Arena sign, removing the big "C" and replacing it.
I wanted to check out the pedestrian bridge at High Falls.  It had been awhile since I had visited.  There was a lot of water flowing over the falls and into the gorge from the melting snow.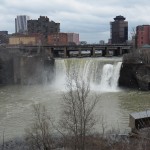 The unique brewery Christmas Tree was on display.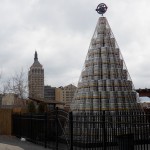 There was a little bit of damage to the "G" on the Genesee Brewery sign.  Probably caused by the high winds we had last night.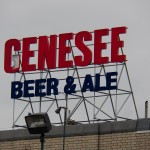 On my way home, I again drove through Charlotte.  There was a juvie Red-tailed Hawk hunting near the Charlotte Lighthouse.
Abbotts is closed for the season, but spring will be here before we know it.  Ice Cream anyone?  🙂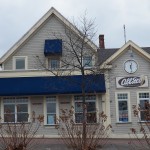 I hope everyone enjoyed their Christmas with family and friends.