Tuesday, September 30th, 2014
By Rochester Falcon Watcher Carol P.
My evening watches continue to get shorter.  Tonight I only had a little over an hour (6:00 – 7:15 pm) before it was too dark to see anything.  At least the weather has been nice.
When I arrived downtown at 6:00 pm, I found Beauty on the Frontier Communication Tower (FCT) on the southwest box below the platform.  Last night she had been on the northwest box.
*
*
*
*
At 6:08 pm, Beauty took off and headed south.  I made my way over to the Broad St Bridge, which was filling up with cars. There's always something going on at night in Rochester.  I looked for both Beauty and Dot.ca, but could find neither of them. The Great Egret was hunting on the south side of the bridge.
*
*
*
*
There were window washers on the south side of the OCSR.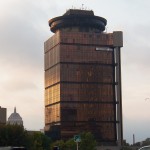 *
*
*
*
*
I drove around downtown, but had no luck finding any falcons, so I headed back towards the Times Square Bldg.  Finally, I found Beauty on the south railing on the Widows Walk.
*
*
*
*
At 7:06 pm, she took off and headed east.  Hmm, wonder where she was heading?  🙂  Yep, I caught up with Beauty on the south side of the Xerox Tower.  She was on the 4th column in from the southeast corner.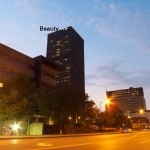 *
*
*
*
*
By this time it was too dark to see much, so I ended my watch at 7:15 pm.  It was a nice quiet and peaceful watch spent with Beauty.  Sorry to say, that I never did find Dot.ca.  I passed the beautiful building that is host to our falcons nest box, the Times Square Bldg on my way home.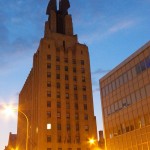 *
*
*
*
*
Now to catch up a little bit.
Sunday, 9/28/14
On Sunday, Dana and I did some falcon watching after I finished helping with maintenance on the nest box cameras.  Beauty and Dot.ca were both hanging out downtown, so we decided to check out Hawkeye, Seneca Towers and the Kodak Park Research Labs.  No falcons seen there, so we continued on to Russell Station where Dana had seen a juvenile Peregrine Falcon earlier that day.  We were pleased to find the young falcon just above the lower catwalk on the west stack.  This falcon is unbanded.  We do hope that it decides to spend the winter there.
*
*
*
*
*
*
*
*
Monday, 9/29/14
I didn't have long to watch last night (Monday), but I did spend some time with Beauty.  She was on the northwest box on the Frontier Communication Tower.  Joyce had been there earlier and had seen both Dot.ca and Beauty there.
*
*
*
*
It has been very quiet downtown the last few days, just the way I like it.  Goodnight everyone!