Thursday, June 21st, 2018
By Rochester Falcon Watcher Carol P.
Morning Afternoon Watchers: Kathy O, Dana, Ron and Carol P.
Weather: For the first day of Summer, it was a chilly day!  Brrrr!
Early this morning, I found newly fledged Sundara on the Powers Bldg.  The same building she had fledged to yesterday.  She looked bright eyed and ready to join her siblings.  She was doing a lot of wing stretches and flapping strongly.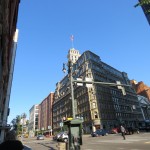 <— The Powers Bldg.
I found Letchworth on the SW corner of the lower roof on the Cross Rds Bldg.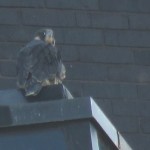 Beauty came in with food and brought it to the north end of the Cross Rds Bldg to prep it.  When she flew in, Dot.ca followed, along with Mike.  Sundara took off and landed next to her sister Letchworth on the Cross Rds Bldg.  Mike ended up on the top IBeam of OCSR.  He made an awesome landing there!  Dot.ca flew over to the Powers Bldg.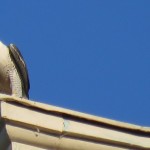 <— Dot.ca on Powers Bldg.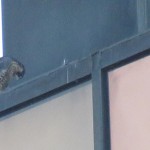 <— Mike on OCSR Top Ibeam.
After prepping the food, Beauty brought it to Mike on OCSR and beak fed him.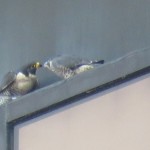 <— Beauty feeding Mike.
After feeding Mike, she took the prey over to Letchworth and Sundara on Cross Rds.  They were very aggressive, and she ended up leaving it on the ledge for them to feed themselves.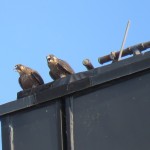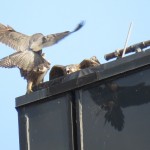 <— Beauty brings food to Letchworth and Sundara.
Beauty flew back over to OCSR.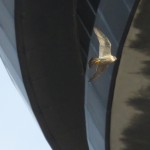 <— Beauty to OCSR.
After the girls finished their meal, Beauty returned to the corner of Cross Rds, where she was joined by Mike.  He wanted just a bit more.  He is very good at following the food.  lol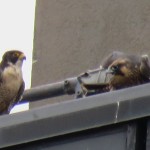 <— Beauty and Mike on Cross Rds Bldg.
A little later on, we witnessed Beauty successfully hunt a pigeon over Main St.  She flew over us with her catch, heading south.  She landed on a couple different buildings with it before heading over the river to the library, where I believe she cached it.
My watch ended at just before 3:00 pm.  After being there for 8 hours, it was time to head home.  All was quiet.
Before heading home, I stopped on the Andrew St. Bridge, where I found all three juvies on the NW corner of the Cross Rds Bldg.  They were all huddled together under the watchful eye of Beauty, who was on the Powers Bldg.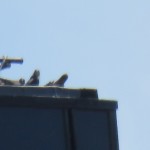 <— Mike, Letchworth and Sundara on Cross Rds Bldg.