Monday, August 31st, 2015
By Rochester Falcon Watcher MAK
It was mainly overcast and hazy with a temperature of  65 (F) 18 (C)
I started my watch with Billie and Seth again this morning as they were in their spots opposite each other on the top north window ledge of Seneca Towers. I've not seen a juvie here in a few days. I left them preening to go downtown as I was anxious to see Beauty since she had not been seen in a couple days.
As I landed on the Andrews St. bridge (ASB) I spotted Dot.ca (DC) and Genesee flying in between the Crossroads and OCSR buildings. Genesee landed near the northwest corner of Crossroads and immediately started eating as dad flew on to land on a top arm of the Frontier Communications tower (FCT).
I drove down on State St. across from the Rochester Plaza Hotel that has recently been taken over by Holiday Inn. Genesee didn't eat for long so it was a small piece of food that he may have gotten or stolen from DC.
Genesee flew over to FCT screaming at DC then they both flew east over the hotel out of view. A couple minutes later one of them came back thru landing on the top arm of FCT then off to the south. I took a ride around town and found DC on the northeast corner of the Kodak Office (KO) launchpad around 7:15am.
I was cinched in at Brown and State St. to watch our fast little flyer as he launched himself into a stoop only to return and land on the northeast corner of the playpen netting.
He barely got settled before he was off again going into a stoop passing in front of me right over State St. to the north out of view quickly. Holy FAST flying falcon! He returned empty taloned then stooped to the east before coming to rest on the southeast corner of the playpen netting.
Once again he was off after a few minutes heading northeast and returning to the northeast corner of the netting around 7:45am. Phew, he was wearing me out just watching him!! I left when I spotted a falcon landing on the middle arm of FCT. With its back to me from the City Hall parking lot it looked dark and so I thought it was Beauty.
At 8amI decided to go down in front of City Hall on Fitzhugh St. for a better angle and when he turned and spread out to walk further in on the arm I could see the leg bands identifying him as Genesee.
Genesee got settled with his back to me so back to the City Hall parking lot I went. He stayed about 20 minutes then flew north out of my field of vision. As I left I checked to see that DC was still on KO so I went in search of Beauty.
I didn't have to look for long as I spotted her on the base of Mercury  from the Broad St. bridge at 8:30am with her back to me at first but then she turned and picked up prey in her beak. Soon feathers were flying as she started to prepare breakfast.
She barely got started when a screaming Genesee came flying in fast from the east and knocked her off. It all happened so fast I didn't know if he took the food or if it was left behind. One of them flew back toward Mercury then disappeared behind Thomson Reuters. I had just begun to zoom in on the Beautyful one for a video when it took place so you can see the mugging. haha! 5 minutes later I saw Beauty land on the east side platform railing of FCT as I was stopped at the traffic light at State and Church St.
I left downtown to check the Medley Center before ending my watch. All I saw there were a couple turkey vultures and some pigeons.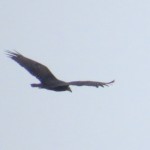 On my way home I checked St. Ann's Home and the Rochester General Hospital but saw no falcons. To give you an idea where the Medley Center (2.5 miles from ST)and other buildings are situated I took pics from the east balcony on my 16th floor at Seneca Towers.
I ended my watch at 10am content that Beauty was ok and most certainly smiling because of it! 🙂
Click on the links below to see today's videos