Monday, March 31st, 2014
Well it's the last day of an awful weather month-let's hope April warms things up around here. It was clear with sunshine, blue skies and a starting temperature of 26 (F) -3 (C) today
I stepped out the house for my watch after seeing Beauty and Dot.Ca (DC) bowing in the nest box on the livestream video on my computer. When I arrived downtown just before 7am I spotted Beauty on the southwest corner of the Wilder building.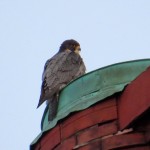 I didn't see DC around and opted to go check the Brighton site (BS) hoping to see Pigott had returned home. When I got there around 7:30am  I noticed tail feathers hanging over the edge of the northwest corner on the west extension.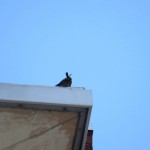 I started to get excited as this is a spot I'd seen Pigott eat on many times but when a crow got too close the falcon turned around,spread it's wings, started screaming at the crow and just by the sound I knew it wasn't Miss Pigott. This would be my first look at the banded juvenile seen here the past few days by other watchers.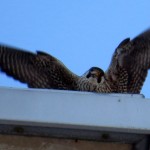 <Click on my pics to see the full version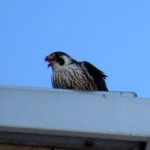 I'll refer to this falcon as JY (Juvenile with Yellow tape on right leg band). JY spent a good 20 minutes eating in which time Larry stopped to say hi on his way to work. When  finished eating JY feaked on the edge of the building and then suddenly  flew off and chased another falcon that had flown in behind me from the north. JY stooped on this other falcon several times as they headed south at first then veered off to the east behind the building where I couldn't see them.
They looked to be the same size to me but I'm not real good at recognizing that so I can't be sure. Again I got excited thinking Pigott had come to get her territory back but when I drove from the northwest side around to the south side of the building I saw  DC land on the southwest corner of the southwest extension. He flew off to the north after pooping at 8:01am then I lost sight of him again.
He showed up on the west end of the south side vent long enough to touch down and leave-again flying north. When DC didn't come back I figured it was safe to say he went downtown and JY was gone from the area too.
Confirmation came when Donna and Pat (TY) reported that DC was at the nest box with Beauty. I left for downtown after waiting 20 minutes more to see for JY to came back, which she didn't. When I arrived on the Broad St. bridge (BSB) I spotted Beauty and DC on the top ibeam of OCSR-she was on the west corner and he was on the south corner. I went down to the hole to watch. At 8:59am Beauty flew off and less than a minute later DC flew off as well in the direction of Times Square. Donna and Pat let me now that Beauty and DC were at the nest box
Donna and Pat reported Beauty and DC at the nest box. I drove back up on the BSB to look and saw DC on the Mercury money bag (MMB) but his back was to me so I returned to the hole. From there I saw Beauty on top of the Wilder fire escape ladder-a spot Archer (Beautys' first mate) used to frequent.
Now, from where I was positioned I couldn't see them both so I stuck with the Beautyful one. A few minutes later she flew toward Mercury at 9:11am.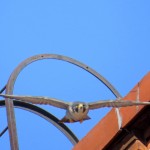 I then parked at Aqueduct and Bank Place with a direct view of Mercury. Beauty was on the base eating and DC was still on the money bag.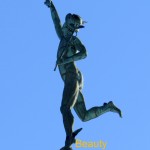 <Click it
Beauty finished eating and soon after DC flew off  followed by Beauty toward Times Square.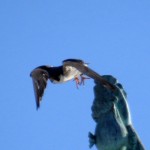 DC
I thought they went to the nest box but when I looked for them I spotted one on Widows Walk. I drove to Fitzhugh St. but by the time I got thru traffic and lights there was nobody there. As I was stopped at the intersection of Broad and Exchange I noticed Beauty on the calf of the Mercury statue and as the light turned green I saw DC come flying in and land on her to mate. By the time I pulled over they were done-DC flew up to the money bag and Beauty moved over to the heel on Mercurys' leg.
I chose to end my watch with a smile at 9:44am and left them to sun themselves! 🙂
Click on the links below for more pics and videos
http://share.shutterfly.com/action/welcome?sid=0AaN3DFm0ZMWqjZI
---