Saturday, February 23rd, 2013
By Rochester Falcon Watcher Carol P.
By the time I was able to get out for my falcon watch it was 11 am.  It was overcast, but the icy sleet had stopped by that time and the temperatures had risen into the mid-30's (F).  On my way through Greece (NY), I spotted a falcon on a church near the corner of Long Pond.  I quickly pulled into the parking lot and discovered it was a Merlin and she was hunting from the cross over to a nearby wooded area.
*
*
*
*
My next stop was KP, where all I found was one of the resident Red-tailed Hawks on a tree.  HAWKEROO!  🙂
*
*
*
*
I left KP and headed towards the LT location, checking all the buildings I could between KP and there.  I was passing John Marshall High School and spotted a raptor there.  I quickly turned around and went back to the school.  I have always loved the architecture of this school and thought it would be a perfect setting for a falcon or hawk.  Today it was a Red-tailed Hawk.  HAWKEROO!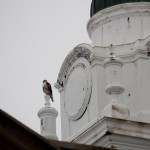 *
*
*
*
*
Onward to the LT location where I found no Peregrines.  It was time to head downtown to look for Ms. Beauty.  After checking all sides of the Kodak Tower, I looked towards the downtown area and found Beauty on the Frontier Communication Tower (FCT).  She was on the NE box below the platform.
*
*
*
*
She took off heading south towards the Times Square Bldg (TSB), in no hurry at all.  I followed and looked all over the downtown area for her.  No luck finding her, so I headed back to the Andrews St Bridge.  From there I could see that Beauty had returned to the FCT and was on the same spot she left.  Tricky falcon.  🙂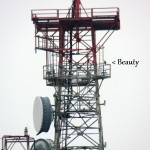 *
*
*
*
*
I left Beauty on the Frontier Communication Tower to see if I could find Pigott at the BS location.  She had been seen by other watchers earlier this morning.  I wasn't as lucky.  I circled the building a couple times, finding no falcons.  But I did find two Canada Geese checking out the place.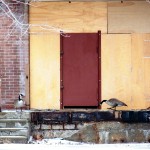 *
*
*
*
*
After circling twice, I saw a familiar car in front of me.  I joined Kathy O in the parking lot on the east end of the building.  She, with Dana, had seen Pigott on the small stacks south of the building and MAK had seen her earlier in the Pefa Tree.  We chatted for awhile before  heading out.  I went back through downtown, but could not find Beauty anywhere.  Donna did tweet that Beauty showed up on the Mercury statue for a short visit, as seen by the nest box cameras at the Times Square Bldg.
I checked out the LT location again and again could find no falcons.  Back to KP for one last look before heading home.  I was greeted by the KP Mockingbird.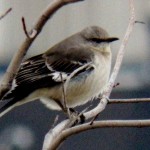 *
*
*
*
*
I continued my search and finally, I found KPF the KP Falcon on the north side of the west smokestack catwalk.  She was looking north.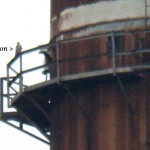 *
*
*
*
*
KPF took off, stooping over the buildings north of the stack.  I lost sight of her for a moment before she swooped back up and circled, gaining altitude and heading towards the SW, in the general direction of the LT location, where Kathy O had just tweeted from.  I tweeted out that KPF had just left KP at 3:52 pm, heading towards LT and that Kathy should keep a look out for her.  We are still trying to prove that KPF and LTF are the same Peregrine Falcon.
At 4:49, Kathy O reported that a falcon came in and circled LT bldg several times, landing on top ledge, east side, closest to north.  So KPF left KP at 3:52 pm and LTF arrived at LT at 4:49 pm.  That's a long time for such a short distance as the falcon flies.  So, still no prove that KPF is really LTF. We'll keep trying.
I'll leave you with a picture sent to me from Kathy O.  She took this picture of LTF on the LT bldg just after she arrived.
Remember to click on any pics you would like to see in a larger format.