Sunday, April 5th, 2015
By Rochester Falcon Watcher Carol P.
11:15 am to 3:00 pm
A Very Happy Easter to everyone!
It was 34 degrees (F) and snowing during my entire watch.  I started at Kodak Park West, to check on the falcon I have seen there.  I saw no falcons there today.
I headed downtown.  Before I left home, I checked the cameras.  Dot.ca was in the nest box on the eggs.  From the Broad St Bridge, I was unable to find any falcons.  Finally from the Andrews St Bridge, I found a falcon on the north side of  the OCSR, on the west end of the top IBeam.  With the snow, there was no way I could ID this falcon.  Thanks Donna & Pat, for letting me know that Beauty was now in the nest box.  So, this was Dot.ca on OCSR.  He was facing the Times Square Bldg, keeping an eye on his family.
All was quiet, so I made my way over to the area where Brian and I had found an injured Mariah.  That was 6 years ago!  Every Easter Sunday, I come downtown to watch the falcons and to remember that day and remember Mariah. <3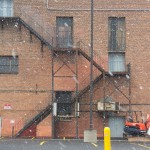 I noticed that they have done a lot of work on the old Midtown Plaza.  The tower section at the top is looking good.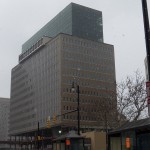 It was time to return to the Broad St Bridge.  From there, I could see that Dot.ca moved over to the top arm on the Frontier Communication Tower.   I drove over to the City Hall parking lot for a closer look.
Dot.ca took off when I wasn't looking, so I didn't see what direction he took.  Back to the Broad St Bridge.  I received a text from Brian H.  He was up on top of the South Ave Ramp Garage.  He could see Beauty in the nest box, but had missed seeing Dot.ca. After awhile, Brian came down to join me.
All was quiet.  At 2:00 pm, I took Brian home and returned to the Broad St Bridge for another look.  No falcons seen from there. I moved closer to the Times Square Bldg and spotted a falcon on the Wilder Bldg green strip.  A text from NCA (thank you!), told me that this was Beauty.  Dot.ca was now in the nest box.
Beauty started to vocalize and look up.  She was very agitated.  I looked up just in time to see a falcon pass over, very high, heading west.  I hoped that Beauty would just let the falcon pass, but no, off she went.  I followed the best I could, but could not see either of them.  After circling the area a few times, I headed over to the Kodak Tower.  There she was!  Beauty was on the south side of the Kodak Tower on the arch ledge.  I was very happy to see her up there.
At 3:00 pm, I ended my Easter Sunday falcon watch.  Except for the 3rd falcon passing over, all was peaceful and quiet.