Wednesday, October 21st, 2015
By Rochester Falcon Watcher MAK
It was a dark overcast morning with some fog downtown and a temperature of  55 (F)  13 (C). Sprinkles of rain here and there
I started the day with Seth on the north window ledge and Billie on the west side railing of Seneca Towers.
I arrived downtown around 8am finding Beauty on the heel of Mercury from the Broad St. bridge.
About 10 minutes later the Beautyful one stooped on some pigeons down behind Thomson Reuters then resurfaced out over the river and flew up to the southwest corner of the Hyatt Hotel for less than a minute and took off as I was tweeting.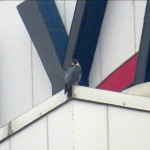 I hadn't seen Dot.ca (DC) around so when I got a tweet that Lisa saw a falcon at the Brighton site (BS) where he used to go with Pigott I thought I better get over there and see if it was him. He was still on the south vent where she reported seeing the falcon when I arrived at 8:39am.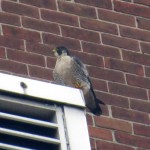 Boy, it's been a couple years since I saw a falcon over there-it was really strange. Anyway, he flew off a minute or so after I found him went around the west side checking out the cubby he and Pigott used to meet in then back out to the southwest corner. It sure looked like DC to and it wasn't until he flew from there at 8:47am that I saw the black/black band on his right leg confirming to me that I was watching DC heading in the direction of downtown.
I returned to downtown and made a couple trips around but didn't find Beauty or DC so I continued on to the Medley Center arriving there about 9:30am. Big Frank was there on the glass peaked roof so I parked on the east side of the mall for the best vantage point. She flew off to the east about 15 minutes later while I was on the phone so I missed the take off shot. One of my pics showed no band on right leg and black/black on the left leg.
I left for the last leg of my watch and found Seth on the north window and Billie on the west side railing-the same spots I saw them on Seneca Towers as when I left for my watch at 7:30am. They both had a full crop so they did move while I was gone!
I ended my watch with a great big smile as I saw our 5 resident Rochester Peregrine Falcons! 🙂
Click on the links below to check out my videos