Friday, October 25th, 2013
By Rochester Falcon Watcher MAK
No frost this morning but it was still chilly at 33 degrees (F) 1 (C) and quite windy-sunshine and blue skies one minute and wet snow flakes mixed with light rain the next. Yes, I saw snowflakes today!
So I spotted Beauty on the southeast corner of HSBC from Woodbury St. I drove over to Ajax St. by the post office to observe around 7:30am. She was eating and plucking feathers. She finished up in about 5 minutes then unexpectedly flew off to the west.
I followed after her stopping on the Broad St. Bridge (BSB) where I spotted a falcon on the middle arm northeast side of the Frontier Communications Tower. I first went to Fitzhugh near Church St. and snapped off a pic, it looked like it was Beauty but since she had her back facing me I went to the City Hall parking lot to at least get a side view. As soon as I stopped she took off heading straight toward OCSR.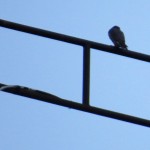 I made my way down to the hole after spotting the Beautyful one under the southeast corner of the Times Square building (TSB) just before 8am. Buddy the gull stopped by for a visit as Beauty preened a bit.
I left for the Brighton site (BS) after 15 minutes or so, arriving at BS just about 8:20am. Just before I got there Shaky tweeted that there was a falcon on the Mercury money bag.  I had been wondering yesterday when Beauty would start hanging out on this her favorite winter perch. Anyway, I could find no PEFAs at BS but as I scanned the building I noticed beehives in many of the upper window corners. I whipped back downtown to try and catch Beauty on Mercury but she left it while I was enroute as cam watcher Donna let me know. Thanks D! I spotted Dot.Ca (DC) under the northeast wing of the TSB as I pulled over on Exchange Blvd. in front of the Blue Cross Arena.
Then I noticed Beauty under the southeast wing-they both had their backs facing out as I went up on the BSB to get a bookend pic of them. After that I went to the hole and parked on Basin St. behind He's Chinese where I could see their profiles at least.
For the most part Beauty preened and DC looked to the north as they seemed like they were ignoring each other. They do have a strange relationship but at least they are hanging out in close proximity to each other. It's funny how DC whines to Beauty (mostly for food) almost acting like a juvie but when he is with Pigott in Brighton she's the one that does the whining and food is not the issue there. Maybe it's the age difference-Beauty is older than DC and he is older than Pigott so the younger one does most of the whining!? Just my thoughts.
I had to leave them just before 9:30am as I had an appointment to get to thus ending my watch in the bright sunshine looking at our beloved downtown duo which absolutely made me a smile!

Click on the links below to view a couple videos from my watch