Sunday, January 26th, 2014
By Rochester Falcon Watcher MAK
As I started my watch at 7:15am the temperature was 6 degrees (F) -14 (C) the sun rose with no clouds in the way and it warmed up to 7!   LOL
Beauty gave me a break this morning and only made me make 2 trips around downtown before finding her on the west side of the south side arch of Kodak Office (KO).
Around 7:45am Dot.Ca (DC) arrived as Beauty watched him fly in from the south and land on the southeast corner of the launchpad.
At first he was facing me but I guess he wanted to warm up his back in the sun. Coupled with the cold weather making it hard to get my camera to focus and looking at his back I didn't get a whole lot of pics of him today.
DC left after 20 minutes, flying southwest and didn't return. Beauty remained on her arch perch and I left for the Brighton Site (BS) after a few more minutes.  Arriving at BS around 8:15am I found Pigott on a top row window ledge on the southeast extension below the roof top tree. In the half hour that I shared space with this pretty Peregrine she had her back to me giving me only glimpses of her face as she preened.
Miss Pigott seemed content to stay there basking in the sun so I headed back to downtown. I didn't find DC but Beauty was still on the south side arch of KO when I got back.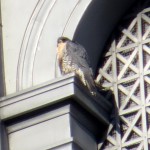 The Beautyful one was all foofed up to keep warm and seemed like she wasn't going anywhere so I ended my watch around 9:30am. I was lucky enough to see all 3 resident Rochester Peregrine Falcons on my watch. Keep smiling everyone it makes people wonder what you're up to!

Click on the links below to view todays videos of our fine feathered friends