Wednesday, January 2nd, 2013
By Rochester Falcon Watcher Joyce (wnyfalconfan)
What a great way to ring in 2013…with members of my "3F Club" – Family, Friends, & Falcons. And, I was lucky to have a special bird-of-prey sighting on the first day of the New Year.
Click on each thumbnail for full view, or see photos in my Picasa album.
I was so glad that I could make it downtown for the Watcher's Annual New Year Toast. Nothing (except a blizzard) was going to keep me away, even with a broken ankle. It took me 2 hours to get ready, and when I arrived I was happy to see so many participants joining in the tradition (as mentioned in Carol and MAK's reports). I thoroughly enjoyed the fresh cold air, even though others were freezing by the time Steve and I arrived.
Beauty was on OCSR during our gathering. Thanks B for being on the I-beam facing us!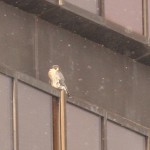 Many headed out to check the Brighton Site (BS). Found Pigott on the south side. No sign of the BS Tiercel (BST).
Pigott was eating.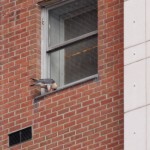 She had a full crop and took off chasing a bird to the south.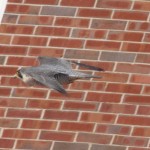 She flew back right overhead and landed on the SW extension corner.
As Pigott settled back in on a SE extension windowsill, Lisa offered to show us where she found an Eastern Screech-Owl. This was the first time I have seen one in the wild. It is a gray morph and was sleeping in a tree cavity. Such a cutie!