Monday, January 14th, 2013
By Rochester Falcon Watcher Joyce (wnyfalconfan)
This past weekend, Steve took me for a brief falconwatch to the Brighton site (BS) and downtown. It must have been "gimper's" luck because I got to see all three peregrines.
Here are slideshows of each of our falcons seen on Saturday, Jan 12th, plus a bonus album of the Eastern Screech-Owl seen on Wednesday Jan 9, 2013.
Click on each thumbnail for full view. Click on links for slideshows and video.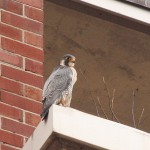 – – – BS Tiercel Slideshow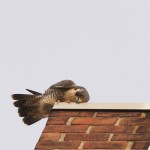 – – – Pigott Slideshow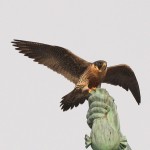 – – – Beauty Slideshow
To go along with my slideshow, here is an rfalconcam video posted by Dumpsterkitty15 on YouTube that was recorded at the same time as I took my photos. – – – Beauty takes off from Mercury January 12, 2013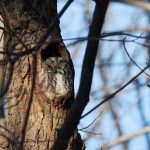 – – – Eastern Screech-Owl Album
Note – In the last photo I caught a rare shot of the upper eyelid over the eyes.
Hope you enjoy!
Joyce