Sunday, July 5th, 2015
By Rochester Falcon Watcher Joyce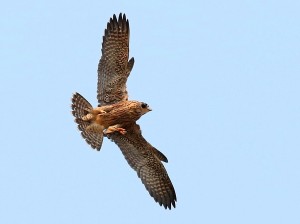 Early Saturday afternoon (7/4/15), Dana observed a falcon flapping a lot on the west side roof above the balconies. She and Carol were certain it was a juvie. It took off heading south down the river. They did not see it return. Carol alerted the group to be on the lookout. Dana shared a quick phone edited pic with those of us that regularly check the building.  Luckily, MAK lives there and  is able to monitor this juvie first hand and provide updates.
Later that evening, I followed up at Seneca Towers. I noticed a juvenile peregrine on the SW corner of the building, then it flew to the middle of the roof above the west side balconies. From below I noticed an adult at the NW corner on a pipe. I couldn't see the juvie from where I was, but I heard the distinct crying for food by the juvenile falcon. Billie tried to entice the juvie off the building with food, but there was no food exchange.  Billie took the food, ate most of it, and Seth sat nearby. The juvie looks like a male based on size comparison with the parents. He flew very well. He still has a white eyas feather on his head, so we suspect he recently fledged.
This is the link to photos taken yesterday.
Enjoy!