July 13th, 2018
By Rochester Falcon Watcher Carol P.
Yet another warm day on the way, with temps of 90 degrees.  It's been a long time since we've had any rain.  Hope we get some soon.
My falcon watch started at about 7 am, just after Larry O signed off.  The first falcon I saw was from the west side of the Kodak Tower.  There was one on the NE corner of Xerox.  It was way too far away to tell who it was.
*Be sure to click on the pics to see the full image.*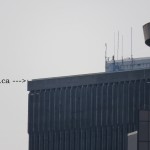 I made my way to the north side of the old Midtown Plaza.  From there I could see that it was Dot.ca.
After a quick search, I found Beauty on the antenna on top of the RG&E bldg.
I noticed that Dot.ca had left while I was checking out Beauty, so I didn't know which direction he had flown.
Beauty then took off, flying low over the buildings to the south.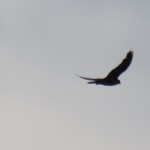 I searched for her, but couldn't find her.
It was time to look for the juvies.
Dot.ca was just flying up to the Frontier Communication Tower (FCT) when I arrived there.  He was on the middle arm, looking south.
From the Andrews St Bridge, I could see that there was a juvie lower on FCT, so I headed back over to City Hall.
Dot.ca was gone, but I was able to get a good view of the juvie.  Dana joined me on the watch.
Finally the juvie lifted her leg and I was able to read her black/green band.  It was 90/BA - Sundara!
While I was talking to a passerby, she took off.  Of course!  lol  Sundara headed west, out of sight.
I drove back to the Andrews St Bridge and saw a falcon heading my way from Kodak.  I caught this one picture of the falcon as it flew over.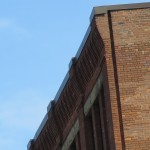 This was very close to the gorge, so Dana and I decided to check out the pedestrian bridge.  We didn't see any falcons there, but we did see a juvie Red-tail Hawk flying over the river and landing on the Genesee Brewery.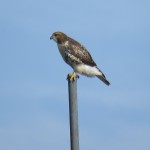 It was a big girl and she took off, flying over the pedestrian bridge and heading towards the falls.  The hawk ended up landing in the Falcon Sucking Tree.  I guess this tree is not only for falcons.  lol
The hawk took off and flew down the east side of the gorge, snatching at leaves, just like our juvie falcons do.  I really miss seeing them in the gorge.  Wish they'd find it.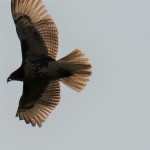 The High Falls Gorge is my most favorite place to watch falcons.  The river is very dry right now due to the lack of rain, but the falls are as beautiful as always.
If you live in or near Rochester, you should visit this magical place.  Enjoy the day and keep cool!