Monday, September 30th, 2013
By Rochester Falcon Watcher MAK
Clouds were the weather story this morning-it was very overcast with a temp of 57 degrees (F) 14 (C)
I checked Xerox and HSBC from Woodbury St. on the east side like I do every morning and saw a falcon on the northwest corner of HSBC at 7am. So I drove to Chestnut St. near the Hotel Cadillac which is the best spot to view that corner and to my surprise I saw 2 PEFAs up there. Dot.Ca (DC) was on the corner and a few feet behind him was Beauty.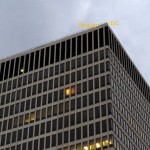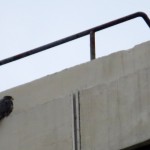 Please click on my pics to view full version
DC turned around and started to walk toward Beauty noticing that she had food underneath her. She was determined to keep it from him and he was determined to get her to share. Many times DC flew off and returned to beg some more but Beauty was having none of it.  This was quite possibly the funniest series of events I've ever witnessed in the falcon world.
DC tried sneaking up behind her to grab it but she had enough of his nonsense and flew off herself and landed further over on the ledge.  DC kept running on the ledge toward Beauty from the east end too-so funny!
This all went on for half hour-DC flew off 4 or 5 times and Beauty 3 times until she'd had enough and left for good. As she flew off to the west DC checked along the ledge for scraps but there were none. He ran down to the northwest corner looking for the Beautyful one and took off.
I went after them and as I stopped on the Broad St. Bridge to have a look around I spotted a falcon on the middle arm of the Frontier Communications Tower (FCT). Upon arriving at City Hall I could see that Beauty was on the arm and DC was on the platform railing northeast corner. I parked on Fitzhugh St. in front of the Sister Cities parking garage at first and moved down in front of City Hall at one point for a closer view.
10 minutes later DC disappeared from the railing and I thought he had left but he re-appeared 10 minutes later. Beauty left the arm while I was watching DC around 8am.
I opted for going to the Brighton site at this time and as I rounded the west side to the back of the building I caught a glimpse of Pigott cruising across the top of the building westbound around 8:25am. She went into a stoop and missed then flew to the southwest extension and came to rest on the northwest corner right above the cubby.
I watched her preen and search the area for a meal for the next 25 minutes and then she flew around the building and landed on the southwest corner of the southwest extension.
As I shared space with Miss Pigott a chipmunk came along to check me out. Around 9:15am Pigott flew southwest and never came back.
It was time to check the Hawkeye and Seneca Towers locations and as I drove thru downtown on State St. I spotted Beauty on the northeast cube of FCT. Parked at the YMCA I saw a Red-tailed Hawk on the southwest corner of the lower roof on Hawkeyes west side. I drove to the east end of the Driving Park bridge and parked on Carthage St. for the closest look at this gorgeous raptor.
I hung out with Red for 20 minutes until he flew off to the west across the river out of sight.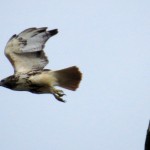 I ended my watch at Seneca Towers at 10am with no juvie sightings there or at Hawkeye, but I did see all 3 Rochester Peregrine Falcons today. And let me just say that the antics of Beauty and DC on HSBC this morning made me smile oh so much!

Click on the links below to view my photo album and some pretty funny videos of Beauty and DC
http://share.shutterfly.com/action/welcome?sid=0AaN3DFm0ZMWqiuI
http://youtu.be/FGOkFnDrBIQ
http://youtu.be/iEl0tRvgVZc
http://youtu.be/1ayccgUw-Cw
http://youtu.be/CfTdOjwzx8E
http://youtu.be/rqLWEF2fMl0
http://youtu.be/hE84mOUJ5Y4
http://youtu.be/sPNtOebecy0