August 29th, 2015
By Rochester Falcon Watcher MAK
It was a mostly sunny morning with a starting temperature of 57 (F) 14 (C)
I started my watch at the north end of Seneca Towers with Billie and Seth on the top window ledge across from each other just like yesterday. There was a tiny piece of food hanging over the edge in front of Buffalo Billie so I believe breakfast had been served.
I got a tweet from watcher Dana that she saw a falcon on the peak  of the roof at the closed down Medley Center mall in Irondequoit. I opted to leave Seneca Towers to check it out. When I arrived at the north side of the mall I could see it immediately as it looked big to me-so probably a female.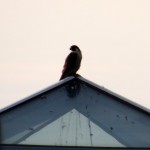 I couldn't get any closer from that side so I went around to the south side parking lot. My first leg shot didn't show a leg band on this adult but after a few more pics it became visible. It also had a fascinator on its beak.
It was in hunt mode with its choice of starlings, sparrows, mourning doves or pigeons that were flying all over the place.  It was preening, stretching and scratching as it thought about what bird to go after.
It made a choice and flew off at 8am to the west behind the next peaked roof.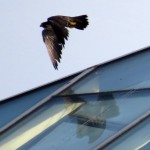 I drove down to where I could see it on a round exhaust type roof structure on the roof where the carousel is housed in the mall.
It stayed there for about half an hour then it crouched down as 2 mourning doves came flying in and landed on the lower roof in front of us both. It watched them for a couple minutes then turned, spread its wings and flew after a pigeon to the other side of the mall out of view.
The flight pics show some frazzled feathers so I believe this big falcon is molting. It returned unsuccessful in its hunt and landed on the front of the roof peak above the carousel where I was able to get pics of the left leg band. It's a Canadian adult Falcon with a black over black (Canadian colors) S/39 band.
It took off for the last time around 8:45am and didn't return after flying north out of view.
We're waiting for information back from our friends in the Canadian Peregrine Foundation as to who and where this falcon is from.  I left for downtown going past Seneca Towers so I could clock the distance between it and the Medley Center-2.5 miles. I find it interesting because the distance between ST and the Times Square nest site is also 2.5 miles and from there over to the Brighton site is 2.5 miles as well. Just a something to ponder.
I arrived on the Andrews St. bridge downtown at 9:10am and spotted a falcon on the northeast corner of the Kodak Office launchpad.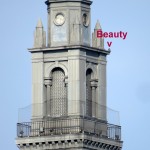 While I was driving down State St. it flew around to the southwest corner of the launchpad so I went to Verona St. on the west side of Kodak to see it from a closer vantage point. It was Beauty and she too was in hunt mode watching pigeons below her.
I left her to it and took a ride around downtown but saw no more falcons. As I was exiting downtown I passed the Beautyful one who was still on Kodak at 9:45am when I ended my watch. I'm sure you know that I was smiling after seeing a falcon that was visiting from Canada or has it got a nest site in the area!? Stay tuned!

Click on the links below to see today's videos featuring our little Canadian friend