December 20th, 2014
By Rochester Falcon Watcher MAK
Gray, overcast and calm with a temperature of 28 (F) -2 (C)
Click on the pics to see the full version
The first place I checked this morning was the OCSR elevator shaft expecting to see Dot.ca (DC). If he was up in there I didn't notice him from the Radisson Hotel by Main St. What I did notice was a falcon with its back to me on the top ibeam south corner of OCSR. I drove over to the hole parking lot to see that it was Beauty and she was looking in my direction.
About 10 minutes later Beauty flew to the east out of view and when she came back into view I saw her fly up into the elevator shaft. I believe this was her wake up call for DC to come out and start the day. When I arrived back at the Radisson Hotel she was way back in on the north side ledge of the elevator shaft. Beauty then came forward where I could see her much better and it was obvious to me that she was looking across at DC.
After a couple minutes the Beautyful one flew out and around to the south corner top ibeam of OCSR again around 8am. I drove to Bragdon Place where I could see the south side ledge of the elevator shaft and there he was in all his glory-DC with his back to me.
I couldn't resist making that pic above festive! I decided to go back by Main St. where I could keep track of Beauty and the elevator shaft for when DC might come out to join us. On the way I stopped to take a pic of a window on Main St. at St. Paul St.
While I did this Beauty flew to the Mercury money bag (MMB) so I returned to the hole parking lot to watch her. Less than 5 minutes later I spotted DC flying north toward OCSR-after he checked out Beauty on Mercury he went to the top ibeam near the south corner (a very popular place in the morning lately).
I started to tape a video of DC but he flew off just as I got started to replace Beauty on the MMB as she had stooped to the east right around 8:30am.
DC stayed up there for a while stretching, scratching and keeping watch over the territory while Beauty was most likely off somewhere hunting. The last pic below was too dark so I gave it a little color. lol

I left to look for Beauty with no luck and when I returned DC was gone of course. I made a final search but couldn't find them. I did find this pretty wreath tho.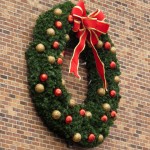 I left downtown around 9:30am and didn't find any falcons at Seneca Towers for the 4th day in a row. That's ok, I've gone that long and longer without seeing Billie and 99. They'll turn up eventually and make me smile!

Click on the links below to see todays videos
http://youtu.be/E4ZgeOj_Ou0