July 21st, 2014
By Rochester Falcon Watcher Carol P.
I got a late start, arriving downtown just a little before 7:30 pm.  It was a balmy, beautiful evening.  When I left downtown at approximately 9:00 pm, the State St clock said it was 75 degrees.  Nice!
When I arrived, I spotted two falcons on the Frontier Communication Tower (FCT).  There was a juvie, that I believe was Tesh (but can't be 100% sure) on the south side of the platform railing.  On the second arm, was an adult that I believe was Dot.ca.  I parked on the north side of the tower for a better look.  That's when a juvie flew in and knocked Dot.ca off.  Dot.ca headed south towards the Times Square Bldg (TSB) and the juvie landed on the east side platform railing.  I was not able to positively ID this juvie.  In fact, due to low light, I was not able to positively ID any of the falcons this evening, except to say they were juvie or adult.
*
*
*
*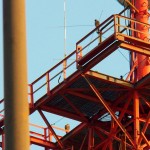 *
*
*
*
*
Right after Dot.ca left, Larry O joined me.  He decided to head downtown to see if he could spot any other falcons.  From the Broad St Bridge (BSB), Larry reported seeing one falcon on the jail communication tower.  It wasn't long before the juvie on the east side of the railing took off and headed south towards the Times Square Bldg.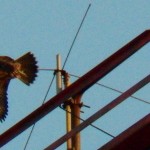 *
*
*
*
*
Larry tweeted that a juvie landed on the southwest wing ledge on the Times Square Bldg.  Since the juvie on the FCT seemed to be settled in for a nice preening, I headed over to the Times Square Bldg where I found the juvie located there.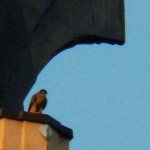 *
*
*
*
*
I met up with Larry O on the Broad St Bridge, where he was checking out one of the adult Black-Crowned Night Herons that have been hanging out on the river.  There were also a whole bunch of Cedar Wax Wings there.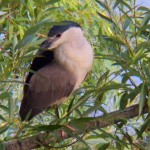 *
*
*
*
*
The falcon that had been on the Time Square Bldg joined the other one on the jail communication tower.  Then both took off and flew towards us and over us heading east.  We last saw them as they passed by Midtown Plaza continuing east.  From the other side of the BSB we could see that there were now two falcons back on the Frontier Communication Tower.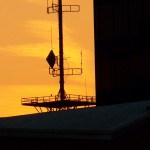 *
*
*
*
*
Larry had to leave, so I decided to get a look at the area near Midtown.  As I passed Geva Theater, I found a Red-tailed Hawk (adult) on a light pole near the park.  Next to the hawk was a Robin and a Finch.  They were shouting their displeasure at having this big bird of prey in their territory.  The Crows got in on the act when the hawk decided to leave chasing it and cawing loudly.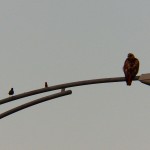 *
*
*
*
*
Continuing on, I found two juvies talon tagging over HSBC.  They both landed on the west side of the building.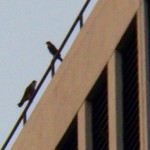 *
*
*
*
*
They didn't stay there long.  By this time it was getting dark and my camera does not work well in low light.  I really thought I saw four flying above Xerox, but I never captured a picture of four.  Here's one really blurry picture of three juvies chasing each other over the top of the Xerox Tower.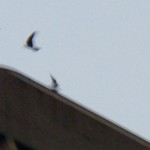 *
*
*
*
*
They flew together for a few moments and then took off in different directions.  One landed on the southeast corner of the Chase Lincoln Tower.  I headed back to the Broad St Bridge, arriving just in time to first hear and then see two juvies chasing an adult.  Pretty sure it was Dot.ca.  When he got close to the OCSR, and the two juvies were directly behind him, he flipped up into the elevator shaft.  It was kind of funny seeing the reaction of the two juvies as they flew past and back around.  Trying to figure out where their dad went.  :-)
I believe they landed on the OCSR somewhere, but it was too dark to see where.  Another falcon flew up to the Times Square Bldg and landed on the southeast wing ledge.  I thought another falcon had landed on the northeast wing ledge, but I could not verify that it was up there.
A little after 9:00 pm, I ended my very active fledge watch.  Although I can't say for sure that I saw Beauty during my watch, I do know that she spent some time at the nest box, where she was seen on camera tidying up the scrape.  Goodnight everyone!  Enjoy your evening!