October 24th, 2014
By Rochester Falcon Watcher MAK
The day started with a temperature of 48 (F) 9 (C) and it was mostly sunny
Click on my pics to see the full version
There were no falcons seen at Seneca Towers when I left for downtown this morning. After checking the east side for Beauty and Dot.Ca (DC) I spotted him under the northeast wing of the Times Square building (TSB) and Beauty on the top ibeam south side of OCSR from the Broad St. bridge (BSB). I drove down to the hole to get closer but Beauty left while I was in transit, so I got situated over on Basin St. by the Wilder building to watch DC. At first he was feaking which led me to believe he had eaten.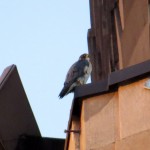 I started taping him when Beauty flew up and landed next to him-he immediately went to the back of the ledge then flew over to the southeast wing ledge.
While I was watching Beauty around 8am she flew northeast and when I looked over to DC he was gone too. A couple minutes later as I was just about to leave I noticed the Beautyful one over on one of the fake chimneys of Irving Place (the building Widows Walk is on. She was plucking flowers and began eating prey-I thought she must have caught something when she flew off TSB but she finished pretty quick so I believe she had cached food.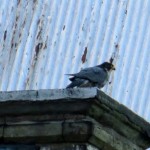 I drove over to the alley, also named Irving Place, to get as close as I could to Beauty.
Beauty took off at 8:10am flying northeast once again-I heard vocalization coming from somewhere and saw a falcon shadow on the Wilder building so I drove over to the hole to have a look around.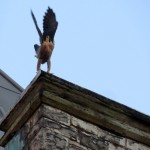 A few minutes later Beauty showed up under the southeast wing of TSB. She had her back facing out so I parked on Exchange Blvd. nest to the Blue Cross Arena to get a side view.
I left to look for DC to no avail, stopping on the Court St. bridge to check out the river life below. The usual gathering of ducks and gulls enjoying the sunshine that has been missing for a few days.
Back to my spot to watch Beauty who was looking especially lovely in the morning sun.
I stayed with her until about 9:10am when she started dozing. I checked for DC one more time before leaving downtown but didn't find him.
When I got to Seneca Towers there were no falcons to be seen as I checked every side of the building. I took a pic of the east side from the Northwest Church property before heading home.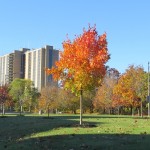 I closed another falcon watch smiling for not only seeing Beauty and DC but because the sun was shining down on me!

Click on the links below to see todays videos
http://youtu.be/8BvK-snywLQ
http://youtu.be/4KmQhqFwzD0
http://youtu.be/rERhmMRJWM0