August 3rd, 2015
By Rochester Falcon Watcher MAK
It was 72 (F) 22 (C) overcast and windy as I stepped out today
As soon as I set foot out on the west side balcony of my Seneca Towers 16th floor I could hear a juvie whining. The next second I had falcons flying all over the place in front of my eyes! Both adults and both juvies treated me to a fast and furious flight show that was only speeded up by the fast moving wind. After the first minute or so the adults flew out of sight and I was left with 2 screaming juvies that were talon tagging and chasing each other back and forth in front of and above me.
I had all I could do to hang on to my camera, it was that windy up there. I only got a couple pics because Bith and Sellie were too fast and too close as they flitted past me and above the building going in and out of view. Needless to say it was more than enough to wake me up-better than a cup of coffee! As quick as it began it stopped and everything went quiet. I got on the elevator to descend down to the ground and check the perimeter of the building. First check was the north end where I found Seth on his top window ledge.
I left him right away to look for the rest but never found them-they just vanished! I arrived downtown on the Andrews St. bridge (ASB) at 6:25am finding Beauty on the top I beam northeast side of OCSR. I went over to Bragdon Place by the north end of the Radisson Hotel for a closer look. It's been a long time since I've seen the Beautyful one over there.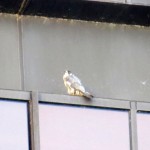 I left to search downtown for the rest of the family but had no luck and returned to watch Beauty. I was looking around and to my surprise I noticed Dot.ca (DC) up on the south ledge of the elevtor shaft.
They weren't doing much-occasionally Beauty would preen or stretch but DC just stay perched in his man cave and it appeared he had a full crop. I had to run an errand and when I returned over an hour later, Beauty was gone but DC was still in the elevator shaft.
I checked downtown one more time and left for home after having no success finding another falcon. When I got to Seth Green Dr. at 9:20am I was happy to see Sellie on the west side railing.
A couple minutes later Bith joined us as I spotted him up on the north end railing. I had to leave them soon after and end my watch at 9:45am as I had an appointment to get to.
What fun I had watching the Seneca Towers juvies right out of the gate this morning. That was good for a smile the rest of the day!

Click on the links below to see today's videos