September 20th, 2014
By Rochester Falcon Watcher MAK
There was a mix of sun and clouds with a temperature of 59 (F) 15 (C)
Click on the pics to see a full version
As I turned around to face Seneca Towers I saw our new mystery falcon fly in from the south and land on the south side roof railing where it was yesterday when I saw it. It stayed a short 5 minutes then flew south and didn't return.
I left for downtown and on my way down St. Paul St. the sun showed itself behind some clouds-of course I had to take a shot as I drove along.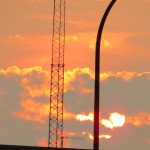 I stopped on the Andrews St. bridge first to have a look around and I was able to see the white of Dot.Ca (DC) on the south ledge of the OCSR elevator shaft and Beauty on  the top ibeam near the west corner.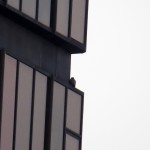 I drove over to Bragdon Place but DC was gone from the elevator shaft when I got there so I went to State St. across from the Rochester Plaza Hotel to watch the Beautyful one. She had her back to me and was looking to and fro-I think for DC. Around 7:45am she walked to the west corner and flew off toward the Frontier Communications Tower (FCT).
I caught up with Beauty as she landed on the northeast cube-lo and behold she led me right to DC who was on a cross beam to the large disk below her. One of them whined a little bit.
They both did some preening-DC had food in his crop. Every once in a while they would look at each other then carry on with preening.
Around 8:10am DC flew southeast but Beauty stayed behind and continued to preen. I stayed a few minutes then went in search of  DC.
I drove to Bragdon Pl. to check the OCSR south side of elevator shaft and there he was facing out making it easy for me to spot him in the shadows. I could also see Beauty over on FCT from there.
I left assuming they were cinched in for a while. I checked Hawkeye on my way home to Seneca Towers and found no falcons at either location. I ended my watch at about 9am with a smile, as I thought about DC going to his man cave to get away from Beauty!

Click on the links below to see todays videos
http://youtu.be/znV51SiTqk0