October 20th, 2014
By Rochester Falcon Watcher MAK
Same weather as yesterday with a starting temperature of 43 (F) 6 (C) mostly overcast with a short showing of the sun
Click on the pics to see the full version
Starting at Seneca Towers the only bird I saw was a brave pigeon on the west side roof. I made my way downtown driving around for a good half hour before spotting Beauty under the northeast wing of the Times Square building. She looked to be eating something at first and when I went down to Basin St. in the hole to observe she started feaking. And, I spotted Dot.Ca (DC) under the northwest wing doing the same thing so it would seem they shared a meal this morning.
DC soon finished cleaning up and at 8:05am flew up to the medal work between the northeast and northwest wings of  Times Square.
It stayed this way for about 15 minutes then Mr. ants in his pants flew off, circled around back past Beauty (she was watching him the whole time over her shoulder) and landed under the northwest wing again.It was at this time the sun shone for a few minutes.

5 minutes later after some feaking and a poop, DC flew off heading northeast in the direction of OCSR.
When he didn't return I drove over to Exchange Blvd. in front of the Blue Cross Arena so I could see more than the Beautyful one's back. She had been gaping on and off the whole time she was up there on Times Square. Gaping is the term for when they open their mouth and throw their head back-one theory is that they do this to move food around in their crop and with a full crop and having just eaten this makes perfect sense. If you watch my snippet video from todays watch there are several snippets where she is gaping.

I shared space with Beauty for about 15 minutes then I took off to find DC-after checking all the usual haunts I went to Bragdon Place by the Radisson Hotel to check the south ledge of the OCSR elevator shaft. DC was there in the shadows where I could barely see his white face. It started to rain lightly and just as I began to video tape him he came out to spread his wings and settle down on the ledge edge with his back to me.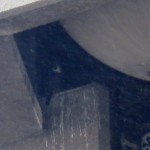 I decided to head out at this time and go home to Seneca Towers-there was no sign of Billie or 99 once again. I ended my watch at 9:30am with a smile as I always do because I'm lucky enough to see our falcons every day!

Click on the links below to see todays videos
http://youtu.be/UXLFT1M5EFw