September 29th, 2014
By Rochester Falcon Watcher MAK
There were some thin clouds this morning but still sun -filled with blue skies for the most part and a starting temperature of 56 (F) 14 (C)  The sky to the north was dark at the start but cleared out as the sun rose
Make sure to click on the pics to see the full version
I dedicate this report to Luzerne, the female that was here with Veteran before Billie. She was found deceased on a sidewalk near Seneca Towers a few weeks ago with injuries that would tell us that she died after hitting the building.

I started my watch at Seneca Towers (ST) out at the entrance of the visitor parking where I can see the west side of the building thru the trees. Soon, after the leaves are gone I will have more places to watch from. Our new male with the yellow tape on his right leg band was up by the northwest corner on the north side with his back to me-he was partially blocked by the railing. He stayed with me about 10 minutes then flew southwest-the take off shot showed his yellow tape thankfully.
Mr. Yellow Tape did not return so I made my way downtown. My first stop was the Andrews St. Bridge (ASB) whereI could see Beauty on the northeast cube of the Frontier Communications Tower (FCT). The road crews had all the paving equipment ready to start St. Paul St. and Andrews St. I drove over to Fitzhugh St. in front of the Sister Cities  garage to observe the Beautyful one.

I stayed with her for half hour then left to look for Dot.Ca (DC). I checked all of downtown twice with no luck. I stopped on the Court St. bridge to check the river-I saw the usual suspects-pigeons, gulls and ducks. Then I went back to FCT to see if Beauty was still on her cube-she was but way to the back of it where I could only see her from the City Hall parking lot. Right above her was DC with his back to me under the platform.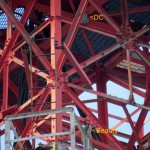 Beauty was napping and I'm pretty sure DC was probably doing the same. He wouldn't turn around at all and barely turned his head in the time I spent watching him and his mate.
I left them around 9:15am to rest and enjoy the nice weather as I wanted to get home to Seneca Towers to try some different spots to look for falcons on the property.
I started over on St. Paul St. at East Ridge Rd. in a church parking lot that Dana had watched from yesterday when she saw both Billie and Mr. Yellow Tape. They had also been seen by Pat on the top floor (22nd floor) north side windows. Our new mystery male was there-I took a couple pics then left for my ST east side parking lot for a closer look.
I'm used to seeing the south and west (river) side of ST from Seth Green Drive visitor parking area where the falcons seem to frequent the most. I was now viewing the east and south sides from the furthest spot on the properties north end backed up to a chain link fence. There was a tree messing with my focus as I had to shoot thru an opening in the leaf filled branches. Unfortunately, Mr. Yellow Tape took off when my view was obscured by the tree for a second, so I didn't get the take off shot that I had hoped for so as to possibly get an ID on this mystery male.
You can clearly see the band with the yellow tape on his right leg. Right after he disappeared I heard vocalizing and when I stepped out from under the tree and looked I saw a falcon on the northwest corner with its back to me. I thought it was him but it turned out to be Billie as I could see the silver band on her right leg band.
Buffalo Billie stood up and showed her left side profile and her black over green band then settled back down. I left to walk around to the west side to see if I could see her better from there and I could.

Suddenly a Turkey Vulture appeared above me and as I was watching it Billie left the building and didn't come back. My camera battery was about to die so I called it a watch at 10:30am.  I saw all four current Rochester Peregrine Falcons making me smile from ear to ear!

Click on the links below to see todays videos
http://youtu.be/kFx_TxDaf0c