March 10th, 2014
By Rochester Falcon Watcher MAK
I'm liking these morning temps lately-today it was 36 (F) 2 (C) with dark overcast skies
I found Beauty eating on the south side of Bausch& Lomb (B&L) at the southeast corner as I pulled over on Woodbury Blvd. to check the area at 7:20am.
I drove around to Broad St. for a closer view and soon after she stopped eating had a look at something (I believe DC) then flew west with the goods.
I caught up with Beauty as I pulled over on the Broad St. bridge (BSB)-she was at the nest box and Dot.Ca (DC) was under the northeast wing of the Times Square building (TSB).
I drove down to the hole where I had a closer look-the drawback being that I couldn't see the nest box from there, but I could see DC and would follow his lead.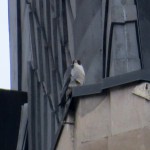 DC saw Beauty take off and flew after her to the southeast out of view and back less than a minute later. The Beautyful went to the nest box and DC went to the corner of the deck by the main cam for some bonding time.
It took less than a minute and he was off again flying north with Beauty following right after him.
Beauty returned by herself coming to rest under the southeast wing at 7:52am. It was at this time I left to check the Brighton Site (BS).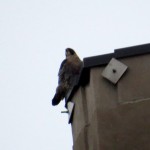 I arrived at BS around 8:30am to find Miss Pigott on the southeast corner of the east extension. She had a little bulge in her crop as she did some stretches and watched every Canadian Goose that flew in and landed on the property.
I kept expecting her to go after the geese but she just cranked her head and watched them as they came in waves to land on the lower roof in the back of the building and on the grounds. I left Pigott at 9:10am as she was looking up at the sky.
As I arrived downtown I spotted DC under the northeast wing of the TSB so I parked in the hole to check him out.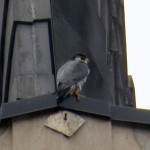 I couldn't see in the nest box from there so I went over to the Radisson Hotel driveway near Main St. just in case Beauty had gone up into the OCSR elevator shaft. She wasn't up there but I could see her perched in front of the nest box looking relaxed and checking to see if DC was above watching over their territory.
All was good in the Rochester Peregrine Falcon world as all 3 were seen doing just fine early in this 2014 season which sent me on my way with a smile as I ended my watch at 9:30am!

Click on the links below to view todays videos
http://youtu.be/MS1yC0h_HK4
http://youtu.be/JcdB1Ih6FII
http://youtu.be/ZrINSj46jaM