August 28th, 2014
By Rochester Falcon Watcher MAK
It was 18 degrees cooler this morning than yesterday and way less humidity as a cold front works its way thru western New York. It was mostly cloudy with a starting temperature of  54 (F) 12 (C)
Click on my pics to see the full version
I started my watch with Dot.Ca  (DC) as I spotted him on the top ibeam south corner of OCSR from the Broad St. Bridge (BSB). I drove down to the hole on Aqueduct St. to get closer to him-2 minutes later he flew west.
10 minutes later I found Beauty as I pulled over on Woodbury St. on the east side-she was up on the 5th column on the south side of Xerox.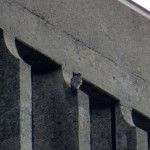 I then drove over to Chestnut St. to watch her with a front view. She was doing a lot of stretching and preening-still in a molt and losing white down feathers.
Beauty stayed there catching a nap here and there besides the preening and stretching (she's a great multi-tasker lol) until just before the 8 o'clock hour when she flew over to the southeast corner of HSBC just long enough to touch down and fly off again behind the building out of view.
I went in search of and found DC on the Frontier Communications Tower (FCT) platform railing northeast corner.
10 minutes later DC looked east and flew west only to return seconds later and come to rest on the northwest corner this time. He was watching some birds below him as he flew off again a few minutes later and returned to the northeast corner one more time. Less than 5 minutes after that he took off and came back this time with prey landing under the platform and above the southeast cube.
I left my spot in the City Hall parking lot for a spot down on Fitzhugh St. in front of the Sister Cities parking garage to see him better as he plucked feathers and started eating. He didn't eat for long then hopped over to a beam farther in under the platform where I could not see him too well.
I left DC around 9am to look for the Beautyful one before wrapping up my watch. Stopping on the Andrews St. bridge to look around I took one last pic of DC. I found Beauty on the top ibeam of OCSR near the south corner from the BSB then I first went to the hole and then the Radisson Hotel at Main St. for better viewing.
I hung out with her for a few minutes while she napped and looked around her territory.

I left to check the Hawkeye plant,Kodak research building and Seneca Towers-all places Veteran and Billy have been seen but had no luck in finding them. I called it a watch around 9:45am with a smile for having seen that Beauty and DC are well and doing fine!

Click on the links below to see todays videos
http://youtu.be/dSOjzmI0dwc