October 4th, 2015
By Rochester Falcon Watcher MAK
The early morning was partly sunny with a temperature of 47 (F) 8 (C)
I spotted a falcon on the west side railing of Seneca Towers when I first got out to Seth Green Dr. Just as I got my camera set it took off-I believe it was Billie judging by size.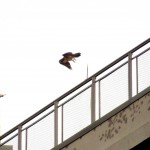 I waited a bit to see if she came back but she didn't, so off to downtown I went. For the third day in a row I found a falcon on Legacy Tower. It was on a southwest corner as I was sitting at the traffic light at South Ave. and Broad St. By the time I got to a spot to check it out it was gone. I checked all of downtown and as I was on my way across the Court St. bridge to re-check the east side I spotted Beauty on the west side of the Rundell Library around 7:45am-she was plucking feathers from a prey bird.
I believe it was either a mourning dove or pigeon that she was eating because of the size and color of the feathers. Beauty took a break for a few minutes then turned around, moved her prey and resumed eating at about 8:30am.
When Beauty had her fill she spread her wings and flew northwest with her leftovers in the direction of the Frontier Communications Tower (FCT) at 8:45am.
I spotted Dot.ca (DC) on the west corner top I-beam of OCSR as I was on State St. but he took off before I could pull over and get my camera ready. He too, headed in the direction of FCT. I turned around but didn't see anyone on FCT  so I proceeded to the Andrews St. bridge to survey the area. From there I spotted both Beauty and DC on the east side of FCT in the white section below the large disc. I drove over to Fitzhugh St. to share space with them.
The Beautyful one was actually on the north side of the tower across from DC who had food. Can't say for sure if it was the leftovers from Beauty or his own catch.
Beauty was napping a little then she woke up and moved out of the shadows to get at least half of her body in the sun while DC continued to eat.
I left them a little after 9am to check the Medley Center for Big Frank as it was reported that Dick saw her over there. Unfortunately, by the time I got there she was gone and so was Dick. I went home and from East Ridge Rd. at St. Paul St. I found Seth in his spot on the top window ledge at the north end of Seneca Towers.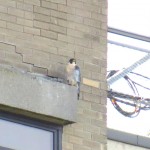 I checked the rest of the building for Billie but didn't find her. I ended my watch at 10am smiling!

Click on the links below to check out today's videos