March 26th, 2015
By Rochester Falcon Watcher MAK
It was a warm morning with a temperature of 41(F) 5(C) very dark and overcast with rain showers on and off
Click on the pics to see the full version
I arrived downtown before 7am today before sunrise so it was pretty dark out still. I spotted a falcon on the south corner top I-beam of OCSR-couldn't say for sure who it was but I believe it was Beauty. I could hear Dot.ca (DC) chirping and then the OCSR bird was gone. I then spotted Beauty under the northeast wing of Times Square (TSB) and at that time Donna reported that DC had been in the nest box. Thanks!
Next thing I knew DC flew in and mated with Beauty under the wing and then he flew to the northwest wing ring.
A minute later the Beautyful one flew down to the nest box and DC flew down to the northeast wing ledge after slipping off the ring. He started plucking feathers from prey that I have to assume was already there because he didn't catch anything on the way down.
Beauty started whining and DC chirped once before flying down to the deck to give his food gift to Beauty but she didn't come out to get it. It may have something to do with her current condition as I suspect she has an egg aboard. When she didn't accept his food gift he left and first stopped on the north side of TSB then over to the northwest corner of Widows Walk (WW).
I believe DC cached the food on WW as he didn't take it with him when he left right after I arrived on Fitzhugh St.
I drove around to Broad St. and spotted DC on the Mercury money bag (MMB). I pulled over by the Blue Cross Arena to watch him do some posing
At 7:49am DC flew southeast-I drove up on the bridge and made a U-turn so I was facing Times Square and then I spotted Beauty on the base of Mercury.
At 8:12am DC came flying in chirping and Beauty flew over to meet him at the nest box. Beauty stayed-DC flew to the heel of Mercury staying a short time then he was off to the northwest wing ring of TSB. He sure keeps me busy lately!

At 8:24am DC flew northwest and I had to go run an errand at that time.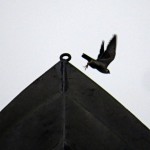 When I returned around 10am I found DC on the top I-beam south corner of OCSR from Exchange and Plymouth. I drove to the BSB where I spotted Beauty on the base of Mercury eating.
A crow was flying past Mercury and DC felt that it was too close to his Beauty, so he chased after it and dove on it over the stairs on Broad St. that go down into the hole-we call it Falcon Watcher Central, as it's a good spot to watch the nest box. DC left the area and so did I as I went home to find just 99 on Seneca Towers' north end on the top window ledge.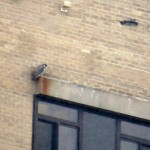 It was raining pretty good at that time and he seemed settled so I waited about 10 minutes to see if Billie popped up. She didn't so I ended my watch at 11:05am. This afternoon Pat reported seeing DC on the top I-beam west corner and Beauty on the second I-beam south corner of OCSR. She noted that Beauty had a full crop and that made me smile!

Click on the links below to see today's videos