March 9th, 2014
By Rochester Falcon Watcher MAK
It was 22 degrees (F) 6 (C) as I started my watch this morning a bit cloudy at first but the sun rose above the clouds and shone bright with beautiful blue skies
I spotted Beauty from Woodbury St. on the southeast corner of the south side of Bausch & Lomb (B&L) around 7:20am. I drove around to Broad St. to find that she had moved to the east side of B&L on another southeast corner and she was plucking feathers to prepare her breakfast.
About 15 minutes later she stopped eating and took her cache to the next southeast corner where she left it before flying to the last southeast corner.
At 7:44am she flew off B&L and went to the nest box-I left my spot on Broad St. and followed her and stopped on the Broad St. Bridge (BSB) to get a pic. Dot.Ca (DC) came in and landed under the northeast wing of the Times Square building (TSB).
Both Beauty and DC snuck off the building when I wasn't looking and a couple minutes later Beauty appeared under the southeast wing.  I almost drove thru a huge pothole  as I was noticing the sun peeking up thru the clouds.
Around 8:15am the Beautyful one flew off to the northeast crossing the river and flying out of sight. I left for the Brighton site (BS) after that.
Arriving at BS at 8:30am as I came around to the east side of the building I spotted Pigott on the corner below the roof top tree. She flew off as I pulled around and circled the building 3 times before flying southeast out of view. A few minutes later Miss Pigott returned landing under the rooftop tree on a top window ledge of the southeast extension. She proceeded to bring up a pellet-in the last pic below you can see the pellet in her mouth starting to make its way out.
Pigott snuck off around 8:45am when I wasn't looking so I headed back downtown to  see what the Beautyful one and DC were up to. When I arrived I went to the hole to watch Beauty who was on the base of Mercury-she didn't stay long as she flew over to Widows Walk for a split second then back around the TSB and landed on the southeast ledge above where Calidora and Orion fledged to.DC arrived under the southeast wing.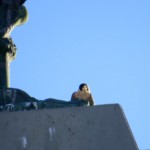 <Beauty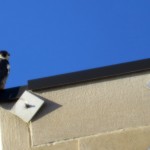 <Click to see DC  and Beauty>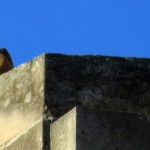 Beauty and DC then flew down to meet at the nest box-I'm not sure who went in first but Beauty landed on the deck by the main cam and then proceeded into the nest box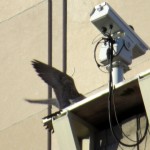 DC flew out and up to the northwest wing ledge where he grabbed a food cache and started plucking feathers in a frenzy-a boy gets hungry when he is in courtship mode. He stopped suddenly and flew northeast.
I couldn't see if Beauty was still in the nest box from the hole so I drove up to the BSB where I could clearly see that she was there.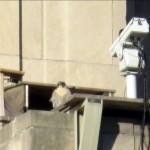 It was about 9:20am and time to end my watch-and what a busy watch it was as our falcons are really getting into courtship mode now. Everyone can smile right along with me as I saw all 3 Rochester Peregrine Falcons and y'all at home are getting to see action at the nest box!

Click on the links below to view more pics and videos from todays watch
http://share.shutterfly.com/action/welcome?sid=0AaN3DFm0ZMWqjW0
http://youtu.be/hJRzbOjjsFQ
http://youtu.be/wNQF6XQ2nyA
http://youtu.be/0L2jWsoNCy4