June 26th, 2017
By Rochester Falcon Watcher MAK
Finally, I got more than a glimpse of the juvie brothers at Seneca Towers! Joyce saw them last night on the north side of the Veterans Memorial Bridge (VMB). I checked there this morning after my morning downtown watch but saw nothing. Tonight as I was crossing the bridge to come home I saw a falcon fly off the west side railing. When I got to my apartment I grabbed my camera and went straight out onto the west side balcony on my 16th floor. Seth was on the west side railing down near the southwest corner.
You must click on the pics to see the full version
A minute later I heard a juvie whining and then it landed on the railing closer to me than his dad. This one had a lot to say as it didn't stop whining much!
A few minutes later juvie 1's brother came in and knocked Seth off the railing then landed further down closer to the other male. Juvie 2, who was lighter in color then flew over to juvie 1 and they took off flying out over the river gorge.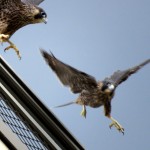 These boys were racing all over the place, talon tagging and screaming at each other. What fun it was to watch them so close from my sky seat!
A storm was moving in from the south bringing with it strong winds and lightning. The brothers flew in and landed right next to each other on the west railing again.
They flew off once more and Seth joined his boys this time. They were tearing it up flying around the building and out over the gorge. Seth flew low over the river then just above the tree tops practically touching them as he passed by and then they all flew northeast out of view. That was the end of the show and boy what a show it was for a good 45 minutes leaving this lucky gal smiling big time!

Click on the link below to see a snippet video of the ST juvies