November 25th, 2015
By Rochester Falcon Watcher MAK
The sun was just coming up when I started my watch with barely a cloud in the sky and a temperature of 28 (F) -2 (C)
I first checked the north end of Seneca Towers from below in my parking lot and was very pleased to see Seth on his window ledge spot and Billie out on the northwest corner of the railing. I then checked from Seth Green Dr. and then over to my spot on East Ridge Rd.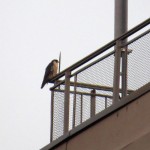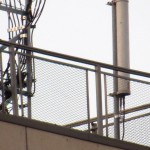 <Click until you get a normal sized pic
A few minutes later, Seth flew off at 7:20am down toward the river gorge and didn't return. I waited a few minutes to see if Billie would follow and just as I was pulling away she took off as well.
I left for downtown and found Beauty under the northeast wing of Times Square (TSB) with her back to me. A minute or so later Dot.ca (DC) flew in and joined her.
Now I don't know if DC brought food with him, took it from Beauty or found a food scrap at the back of the ledge when he walked back there but he managed to drop it off the side and seemed a bit perturbed over it.
Meanwhile, the Beautyful one stand perched moving only her head to watch his shenanigans. I must say DC surely entertains me when it comes to food time. He did some preening before walking past Beauty to the other side of the ledge.
DC was looking all around his surroundings as Beauty remained perched, still moving only her head.
I shared space with our downtown pair of love birds until around 8:30am then headed to a falcon-less Medley Centre Mall where I ended my watch just before the 9 o'clock hour. DC was responsible for  the smile on my face today as I headed home!

Click on the links below to see today's videos