July 2nd, 2015
By Rochester Falcon Watcher Carol P.
6:00 to 9:00 pm
Watchers: Kathy O, Larry O, Dan S and Carol P.
After a day of dark clouds and threats of rain during the afternoon, it was a beautiful evening.  There were still dark clouds moving through, but we were happy to see some bright sunshine too.
Kathy and I arrived downtown about the same time.  My first stop was Kodak Office, where I found Dot.ca on the southeast corner of the launch pad.  He left a few minutes later.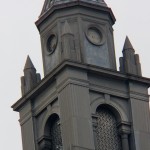 Next I checked out the Frontier Communication Tower (FCT) and found no falcons there.  From Broad St, I spotted Beauty on Mercury's heel.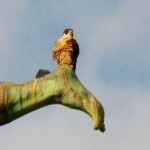 While I was tweeting Beauty's position, Kathy O and Larry O were reporting that there were 3 falcons in the sky, flying over the river.
I hurried out to the Broad St Bridge to join them.  We were thrilled to watch the two juvies flying so well, soaring high above. Cadence settled on the east side of the Cross Rds Bldg and Beauty took off heading west.  We did not see where Genesee went.
All was quiet and we had no falcons in view.  Larry said he was going to head to the gorge.  We were hoping that they might head that way soon.  Kathy and I were going to join him, but on our way we spotted Beauty on Widow's Walk (WW).  While we were checking out Beauty, Kathy noticed that there was a juvie below her on the old City Hall (OCH) roof eating.  I got the scope out and was able to positively ID the juvie as Genesee.
We are pretty sure it was pigeon on the menu.  Beauty flew down and landed next to Genesee.  He did not like that at all and showed his displeasure by mantling the food and screaming at her.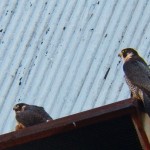 After a few moments, Genesee went back to eating his dinner.  Beauty moved in closer, and he again screamed at her and mantled the food.  She would back up and attempt to move in on him 3 times with the same results.  On her 4th try, she walked right up to him and around him to the other side.  Genesee took a nip at her and then continued his meal.  Finally he seemed to have his fill and he backed away from the food.  Beauty moved in once again, this time she was successful.  That's when Genesee moved in on her. He nipped at her chest a couple times and then kicked her!  Beauty had enough of his shenanigans and flew over to the top of a nearby chimney.  There wasn't much left.  She took a few bites of food and then cached the remainder on the same roof in a corner.  That's when we noticed that Dot.ca arrived when we weren't looking.  He was on the northeast corner of WW.
First Genesee took off heading east and then Beauty took off heading north.  Dot.ca remained on Widow's Walk.  Soon after this, we received the following tweets from Larry O.  "Falcon in the gorge.  Probable juvenile." "Tagging the cliffs."  " Gorge Falcon landed underneath the sandy wash."  Well, you know where Kathy and I were headed.  TO THE GORGE!  lol
We arrived at the pedestrian bridge, joining both Larry O and Dan S.  They pointed out where the juvie landed, beneath the pipe below the observation deck.  These are the only two pictures I got before the juvie took off, flew in front of the falls and headed south towards downtown.  I was just so happy to see a falcon on the gorge wall.  This is my favorite place to watch falcons!
I wish I had time to ID this juvie before it left.  We ended our watch in familiar surroundings, watching the falcons fly over the downtown area.  Just before 9:00 pm, they settled down.  It was time for us to end our watch.  I'll leave you with a few pictures I took while we were watching from the pedestrian bridge.  Good night!