September 16th, 2014
By Rochester Falcon Watcher Carol P.
A beautiful, late summer evening!  When I arrived downtown, I found Beauty on the SE wing ledge of the Times Square Bldg. Dot.ca soon arrived on the top IBeam, south side OCSR.
*
*
*
*
Joyce joined me on the watch down on Aqueduct St, aka "the hole".  Dot.ca flew overhead and landed on the Times Square at the top of the southeast wing on the ring wing.  Beauty remained where she was.
*
*
*
*
*
*
*
*
As we started to lose light, Dot.ca took off and flew south, heading towards the Cornhill area.  Probably off on a hunt.  Beauty remained where she was until approximately 7:00 pm.  She took off from the Times Square Bldg and headed southeast.  I waited to see if she would return, but she didn't.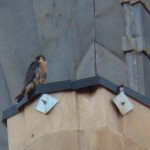 *
*
*
*
*
When neither Beauty or Dot.ca returned, I searched the area and had no luck finding either of them.  At 7:30 pm, it was getting dark and it was time for me to end my watch.  It gets dark so early now.  Goodnight everyone!