September 1st, 2014
By Rochester Falcon Watcher MAK
Back to sunny, blue skies this morning with a starting temperature of  61 (F) 17 (C)
Don't forget to click on my pics to see the full version
From my first stop-the Andrews St. Bridge (ASB), I spotted Beauty on the base of Mercury.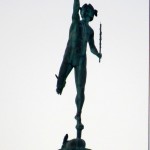 I went to the Broad St. Bridge (BSB) straight away as the sun was making its way up in the eastern sky. Beauty was trying to enjoy the morning as a Yellow-jacket Bee kept buzzing around her.
She kept looking over her shoulder to the east and I thought maybe Dot.C a (DC) was over there and sure enough he came flying in from that direction and landed next to his mate on the base of Mercury. Beauty bowed as he arrived but he wasn't feeling it as he had one thing on his mind as usual-FOOD!

He kept looking down over the edge and finally decided to fly down to the small ledge below the base for a small leftover pigeon leg that was dangling there. A bunch of relatives to that bee thought they should join him as he assessed the situation in the air before flying below it and rises up to land on the ledge as Peregrines often do.

He spent a couple minutes picking at it then swallowed the leg down. gulp! DC then turned around-he and the Beautyful one looked my way, then at each other, then they spotted something and flew off at the same time to the southwest toward the Cornhill area. Tandem hunt or chasing an intruder-whatever the case, they left in a hurry!

I checked the river and found just ducks and gulls before setting out to find our dynamic duo. As I was south bound on Fitzhugh St. after checking the Frontier Communications Tower (FCT) I spotted DC on the north side railing of Widows Walk. About half a minute after I pulled over, he pooped and flew east.
I took a ride to the east side but nobody was over there that I could see. I made my way to the ASB where I noticed one of the parking meters was tipped and almost out of the sidewalk it was bolted to-someone must have been having anger issues or thought they could take it home and get the money out of it. Sheesh! Anyway, I spotted DC over on the top arm, south side of FCT.
I drove to the parking lot next to the Hochstein School of Music for the best view of our funny little man. He was looking for breakfast quite intently at first, then he started preening and a couple times I thought he would fly off as he spread his wings but he was just airing out I guess.

Around 8am Larry and his dog Harold stopped by for a quick visit, then off they went to check from the BSB. DC continued to entertain me until 8:40am when he leisurely flew off to the west.
I rode around downtown looking for Beauty and DC for the next 45 minutes and decided to check the OCSR elevator shaft. Parked on Bragdon Place by the Radisson Hotel where I could see the south side ledge, I saw nothing. Ah, but alas as I was just about to leave I spotted a falcon flying near FCT and it was headed my way. It was DC who took a right when he got past OCSR and went right straight up to the south side ledge where I had just checked!  What a lucky catch that was!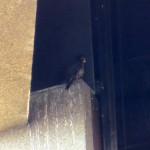 I left him and made one more effort to find Beauty but had no such luck. I checked the Hawkeye plant on St. Paul St., the Kodak research building on Lake Ave., the Kodak Park west power plant on Weiland Rd.. Medley Center (Irondequoit Mall) on East Ridge Road and last my own Seneca Towers building to no avail. I ended my watch at 10:05am. DC certainly had me smiling on this first morning of September!

Click on the links below to view todays videos
http://youtu.be/bR_He2SA1CI