October 19th, 2014
By Rochester Falcon Watcher Carol P. (5:00 t0 6:00 pm)
Arrived downtown a little before 5:00 pm.  I found Dot.ca on the Wilder Bldg green stripe and Beauty on the Times Square Bldg (TSB) southeast wing ledge.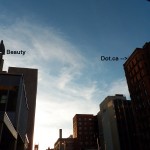 *
*
*
*
*
*
*
*
*
At 5:40 pm, Dot.ca spread his wings and took off heading southeast over the river.  Seconds later, Beauty followed.  Neither of them vocalized.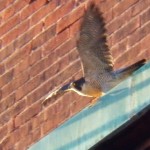 *
*
*
*
*
Beauty returned to the southeast wing ledge on the TSB.  I went out looking for Dot.ca, but could not find him.  At 6:00 pm, I ended my watch.
During my watch, fellow falcon watcher Dana had tweeted the following:  "RS falcon rpt- juvie falcon eating on east side stack center catwalk north side."
On my way home I checked out Hawkeye, Seneca Towers and the KP Research Labs.  No falcons seen at any of those locations.
I arrived at Russell Station just in time to see the juvie falcon take off from the center catwalk of the east stack.  She flew west and then turned back, landing on the north side of the west stack top catwalk.  It was too dark to get any pictures.
It was much colder today than it has been, with temps in the 40's (F).  Have a nice evening everyone!