November 22nd, 2014
By Rochester Falcon Watcher Carol P.
Had to start out by saying, HOORAY for the weekend!  :-)
My watch started at 10:00 am and ended at 12:30 pm.  It started with a little bit of sunshine before clouding up.  I was happy to get out for a watch.  I started at the BS location, where I found no falcons and saw no birds at all.  That was very unusual.  I usually see lots of  Canada Geese and Crows there.
Just before I arrived downtown, I received a tweet from MAK that she had seen a falcon flying by her window at the ST location. After searching the downtown area, I made my way over to the Radisson to check up inside the the OCSR elevator shaft. There I found a falcon on the south side ledge.  I think it was Beauty, but couldn't be sure.
*
*
*
*
I went looking for a 2nd falcon.  From the Andrews St Bridge I checked out the Frontier Communication Tower and the Kodak Tower.  No falcons seen until the falcon from the OCSR elevator flew out and headed north, very fast.  I watched this falcon until it reached the Kodak Tower and a second falcon appeared.  Both falcons flew around the tower and each other.  Weaving in and out and around each other until one landed on the base of the playpen at the northeast corner and the other landed just above the other on the playpen netting.
These pictures were taken from the Andrews St Bridge.
*
*
*
*
I made my way over to the Kodak Tower to get a closer look at the two falcons there.  During my watch, I was never able to make a positive ID on either falcon. But I do believe it was Beauty (B) and Dot.ca (DC).
*
*
*
*
*
*
*
*
Both took off and returned to the tower.  Again, flying around it and each other. Mock talon tagging and what I can only describe as playful behavior.  That is not something I am used to seeing from these two.  It was fun to watch.  There was no vocalizations.
*
*
*
*
Both returned to the Kodak Tower.  Dot.ca landed on the northeast corner of the launchpad and Beauty on the base of the playpen.
Beauty took off and flew around the tower.  She then landed a few feet to Dot.ca's left on the launchpad.  It started to rain, so I left them both to their tandem preening on top of the Kodak Tower.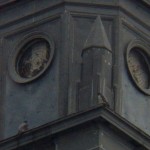 *
*
*
*
*
On my way home, I passed Seneca Towers and found one falcon on top of the building at the north end on the northwest corner.
*
*
*
*
My watch ended at Russell Station where I saw two Red-tailed Hawks soaring above the buildings there.  Below them was a flock of pigeons in panicked flight. The hawks flew south and the pigeons settled on the east end of the building.  I saw no falcons there.
It was a wonderful way to end my watch!