October 7th, 2015
By Rochester Falcon Watcher MAK
It was partly cloudy this morning with a temperature of  50 (F) 10 (C)
Seth was by himself on the top north window ledge at Seneca Towers this morning.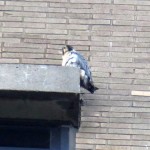 I left him right away to go downtown-checking Hawkeye on my way as I do every day as I pass by it. There was a midwest falcon seen there yesterday-nothing today. I spotted Dot.ca (DC) on the beam connecting the southeast and northeast cubes on the Frontier Communications Tower from the Andrews St. bridge.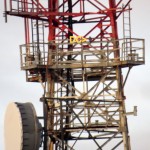 I went over to the City Hall parking lot to observe DC but he had his back to me so I didn't stay too long. He was preening and he watched one of his feathers as it floated by-thought that was cute. I left him to look for Beauty around 8am.
I found the Beautyful one on the west side railing of Widows Walk from the Court St. bridge. I drove over to Broad and Fitzhugh St. for the best view. She was looking around, possibly in hunt mode.
Everything seemed quiet so I left her around 8:30am to check the Medley Centre (MC). I was anxious to get over there after seeing Billie there yesterday. On my way over I got a message from my friend DebbieH that she could see a juvie (most likely Genesee) on the Hall of Justice roof and Beauty was still on Widows Walk. She works in the Ebenezer Watts building which is just behind the Democrat and Chronicle building.
I arrived at the MC at 8:45am finding Big Frank (BF) on the peaked glass roof. First I went to the east side to face her, then to the south side.
BF flew down to the west out of view and didn't return right away. She stirred up pigeons and gulls that were scattering every which way. I drove around to the north side and found her back on the peak again.
BF turns around a lot when she's hunting-she doesn't miss a thing that moves and so I ended up having to go back to the south side of the mall to see her better before leaving.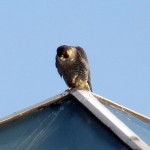 As I pulled over on East Ridge Rd. by St. Paul St. I spotted Billie on the northwest corner of Seneca Towers and Seth not too far away on the top window ledge watching her.
I only stayed a couple minutes as I have a lot to do today. I was happy to see Billie home where she belongs. I saw all 5 Rochester Peregrine Falcons today which made me smile as I ended mt watch at 9:30am!

Click on the links below to check out today's videos