March 3rd, 2015
By Rochester Falcon Watcher MAK
The cold is hanging on as it was 9(F) -13(C) degrees as I headed out today with overcast conditions. There is a Winter Weather Advisory out for later today bringing snow, freezing rain and rain
Click on the pics to see the full version
After taking yesterday off from falcon watching to have a test performed on me I was ready to see our beloved falcons today. As I made my way downtown I got tweets from both Shaky and Donna (thanks guys) saying that Beauty was at the nest box and Dot.ca (DC) was on cam 1 (pan cam) so I knew exactly where to go-I parked on Basin St. in the hole next to the Wilder building. I couldn't see Beauty from there but I could keep track of DC who had his back to me.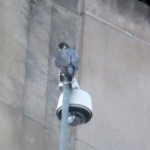 While I was fixated on DC, Beauty snuck out of the nest box (as reported to me by Donna-TY) and ended up under the northeast wing of Times Square (TSB).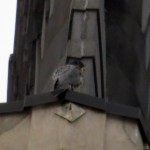 She didn't stay there for long as she flew over to Widows Walk and checked out some cached food that was in the snow there. The Beautyful one left without any of it and flew north.
As I was tweeting DC left cam 1 as well. I caught up with them at Kodak Office where Beauty was on the northeast corner of the Launchpad and DC was on the northeast corner of the playpen netting right below her. I parked north of KO on State St.
Beauty looked down at DC and at 7:40am she flew down to the playpen directly below him-he was still on the netting at the northeast corner and now it was his turn to look down at her.
Just before 8am DC took off heading south and Beauty followed right behind. I found DC on the east side railing of Widows Walk (WW) and Beauty under the northeast wing with her back to me. I parked back on Basin St. again to watch them
As I was answering a phone call both Beauty and DC left without me seeing them. I stopped for coffee then ended up back on State St. with Beauty who was back on the northeast corner of the playpen. 10 minutes later DC showed up landing on the northeast corner of the launchpad above his Beauty.
I left them a little after 9am to head home to Seneca Towers. I spotted both Billie and 99 on the northwest corner from the Northridge Church-she was down below the railing and he was above her on the pipe near that corner.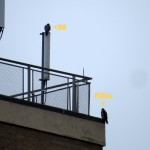 They both took off heading south while I was taping them-they flew past me directly over St. Paul St. and disappeared behind some pine trees. Less than a minute later they returned with Billie going back to the northwest corner with food and 99 watching her from the railing above her.
Billie plucked some feathers but not so many that would lead me to believe she had a fresh catch-it was small whatever she had and didn't take more than 10 minutes to finish it off.
Just as I was about to leave 99 flew off over Buffalo Billie and made a U-turn going over to the other side of the railing above her, then they both flew north over the river at 9 :40am.
It was a productive morning watch for me as our 4 Rochester Peregrine Falcons are getting busy now as their hormones push them to pursue each other in courtship practices. Some exciting times are ahead in the near future which will have us all smiling!

Click on the links below to see today's videos