March 12th, 2014
By Rochester Falcon Watcher MAK
Well the weather is the story today-when I left for my morning watch at 7:10am it was wet and raining with a little sleet mixed in and a temperature of 33 (F) 1 (C). By the time I got downtown there was light snow mixing with the sleet. Within half hour of arriving in our fair city the snow and wind picked up considerably and it only went downhill from there. We are forecast for blizzard conditions today with 12-20 inches of snow and winds up to 40 mph gusting up to 50 mph and maybe some thunder too1 Just a little spring storm for upstate New York. lol  Stay safe out there Rochester!!
So I didn't have a falcon sighting until 8am when I saw one fly off the City Place building which is near the Frontier Communications Tower. I was on the Andrews St. bridge as I watched it fly south vanishing in the snowy dark sky quickly. I headed for Times Square since that's the general direction the falcon was headed. I went down to the hole and could barely make out a falcon on the southwest side of OCSR on the top ibeam. It was Beauty.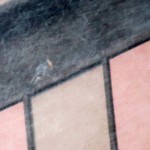 Wasn't sure it was her until I went to Graves St. at Main St. right across from OCSR for a closer look. There's no mistaking that salmon color, even in a snow storm!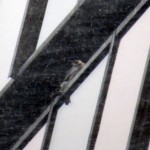 Next I ventured over to the Brighton site where it was snowing a little harder than downtown but closer viewing. I arrived around 8:40am and after a couple trips around the property I spotted a falcon on the southeast extension on a top west facing window. This was Dot.Ca (DC) judging by the whiteness of  him.  It didn't look like he was liking the weather too much.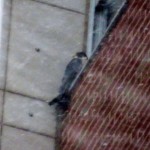 Across from him on the southwest extension was Pigott on an east facing top window and she was preening as the snow came down all around her.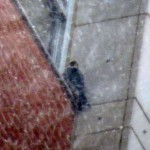 I stayed only long enough to make videos of them as the conditions were getting worse by the minute and I wanted to check on Beauty again before calling it a watch. It was no luck as I couldn't see if the Beautyful one was still on OCSR or up in the elevator shaft but I have a feeling she was hunkered down up there out of the weather. Personally, I love blizzards and severe weather so I was smiling over that and the fact that I saw all 3 of our resident Rochester Peregrine Falcons this morning as I ended my watch at 9am!

Click on the links below to view some snowy white videos